Filters
Loan Type
(Tap to Select)
17 Results Found


EMI: Rs. 5,625

INSTANT APPROVAL

LOWEST EMI


+91
Enter your 10-digit mobile number

EMI: Rs. 5,625

INSTANT APPROVAL

LOWEST EMI


+91
Enter your 10-digit mobile number

EMI: Rs. 5,625

INSTANT APPROVAL

LOWEST EMI


+91
Enter your 10-digit mobile number

EMI: Rs. 5,625


+91
Enter your 10-digit mobile number

EMI: Rs. 5,625


+91
Enter your 10-digit mobile number

EMI: Rs. 10,169


+91
Enter your 10-digit mobile number

EMI: Rs. 11,505


+91
Enter your 10-digit mobile number

EMI: Rs. 13,538


+91
Enter your 10-digit mobile number

EMI: Rs. 16,968


+91
Enter your 10-digit mobile number

EMI: Rs. 23,889


+91
Enter your 10-digit mobile number

EMI: Rs. 44,776


+91
Enter your 10-digit mobile number

EMI: Rs. 9,646


+91
Enter your 10-digit mobile number

EMI: Rs. 10,996


+91
Enter your 10-digit mobile number

EMI: Rs. 13,045


+91
Enter your 10-digit mobile number

EMI: Rs. 16,488


+91
Enter your 10-digit mobile number

EMI: Rs. 23,420


+91
Enter your 10-digit mobile number

EMI: Rs. 44,308


+91
Enter your 10-digit mobile number
Features and benefits of our personal loan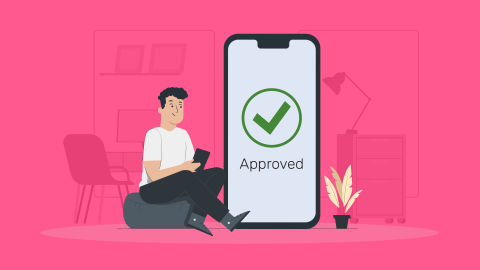 00:40
Features and benefits of our personal loan
 Watch this video to know everything about our personal loan
3 unique variants

Pick the loan variant that suits you best: Term loan, Flexi Term Loan, and Flexi Hybrid Loan.


No part-prepayment charge on Flexi Term Loan

Repay a part of your loan in advance, at no extra cost. You can part-pay as many times as you want.

Loan of up to Rs. 40 lakh

Manage your small or large expenses with loans ranging from Rs. 20,000 to Rs. 40 lakh.


Convenient tenures

Manage your loan easily with repayment options ranging from 6 months to 96 months.


Approval in just 5 minutes

Complete your entire application online from the comfort of your home or wherever you are and get an instant personal loan with fast approval.


Money in your account in 24 hours*

Your bank account will be credited with your loan amount within 24 hours* or, in some cases, on the same day of approval.


No hidden charges

Our fees and charges are mentioned clearly on this page itself and also on our loan documents. We advise you to read these in detail before applying.

No guarantor or collateral needed

You do not need to provide any collateral such as gold ornaments, property papers, or have someone stand as a guarantor.

*Terms and conditions apply.

Still haven't found what you're looking for? Click on any of the links at the top of this page.
Frequently asked questions
Can I get Rs. 5 lakh personal loan?
Anyone can get Bajaj Finserv Personal Loan by meeting the basic eligibility criteria to manage their big or small expenses. You can also check your pre-approved offer which requires minimal to no paperwork and get funds instantly into your bank account.
How to apply for a personal loan of Rs. 5 lakh?
Here is a step-by-step guide to applying for a Rs. 5 lakh personal loan:
Click on 'APPLY' to open our online application form.
Enter your 10-digit mobile number and verify the OTP sent to your phone.
Fill in the application form with your basic details, such as your full name, PAN, date of birth, and PIN code.
Click on 'PROCEED' to visit the loan selection page.
Enter the loan amount that you need. Choose from our three personal loan variants –Term, Flexi Term, and Flexi Hybrid.

Choose the repayment tenure – you can select tenure options of 6 months to 96 months and click on 'PROCEED'.
Complete your KYC and submit your application.
Our representative will contact you for the next steps. The loan amount will be transferred to your bank account upon the successful verification of your documents.
What is the EMI for Rs. 5 lakh personal loan?
What is the eligibility for a Rs. 5 lakh personal loan?
Bajaj Finserv Personal Loan offers funds ranging from Rs. 20,000 to Rs. 40 lakh. The following basic eligibility criteria must be met in order to apply for a personal loan.
Nationality: India
Age: 21 years to 80 years*
Employed with: Public, private, or MNC
CIBIL score: 685 or higher
Monthly salary: Starting Rs. 25,001, based on the city you live in
*You should be 80 years* or younger, at the end of the loan tenure.
What can I do with Rs. 5 Lakh personal loan?
Bajaj Finserv Personal Loan has no end-use restrictions, allowing you to comfortably cover a wide range of expenses including:
Can I get a Rs. 5 lakh loan without income proof?
Obtaining a Rs. 5 lakh loan without income proof is challenging. Most financial institutions require income proof to assess repayment capacity. However, with Bajaj Finance Limited, in most cases, selected customers can get pre-approved Insta Personal Loan offers that don't require income proof.
What are the basic documents required for a Rs. 5 lakh personal loan?
The documentation requirements for a personal loan can vary from lender to lender. Below are the documents that are required to be submitted when applying for a Bajaj Finance Personal Loan:
KYC documents: Aadhaar/ passport/ voter's ID/ driving license/ Letter of National Population Register
PAN card
Employee ID card
Salary slips of the last 3 months
Bank account statements of the previous 3 months
What is the CIBIL score for the Rs. 5 lakh loan?
CIBIL Score requirements for a Rs. 5 lakh personal loan may vary among lenders. With Bajaj Finance Limited, a CIBIL Score of 685 or higher is required to get a personal loan.