Part-prepay your term loan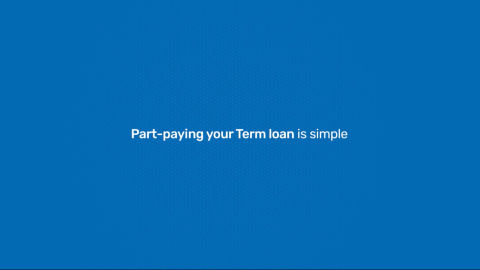 01:10
Part-prepay your loan
If you have surplus funds, you can pay back a part of your loan amount ahead of schedule. This means that interest is charged only on the remaining amount due – which in-turn reduces your loan tenure and/or the EMI.

Repay a part of your loan in advance

You can part-prepay your loan amount in just a few simple steps by visiting our customer portal.

Sign-in to My Account with your mobile number and date of birth.

Select the loan account for which you want to make part-prepayment.

Choose 'Part-prepayment' from the list of payment options.

Enter the amount and review the applicable charges, if any.

Once you enter all the required details, proceed to part-prepay.



You can click on the 'Pay a part of your loan' option below. Sign-in to 'My Account', select 'Part-prepayment' option, and proceed.

Manage your loan EMIs

Choose from multiple payment options and repay your loan easily. Sign-in to My Account to begin.
Frequently asked questions
When should I choose to prepay my loan?
The right time to consider part-prepayment of a loan would depend on various factors. This includes the interest rate of the loan, the remaining duration of the loan tenure, and the availability of funds. It is advised to part-prepay your loan if you have surplus funds and it will help you save on the interest amount in case of a longer tenure.
Is it good to do part-payment?
Part-prepayment of a loan refers to paying a part of your loan amount ahead of the tenure. Part-prepayment helps in reducing your loan tenure or your EMI amount.
How can I use online Bajaj Finserv services?
You can use a host of online services offered by Bajaj Finance by visiting our customer portal – My Account. You can sign-in by entering your registered mobile number and the OTP and use our services such as documents download, loan payments, and more.