Meet your needs with a Gold Loan
Meet your financial needs with a loan against gold jewellery from Bajaj Finance. Whether it is for a medical emergency, the expansion of your business, higher education, or any other expense, our gold loan is a handy way to meet your needs.
With our hassle-free application process, you can apply online in a few simple steps. We will set up an appointment and our representative will help you with the application process when you visit our nearest Bajaj Finserv Gold Loan branch. We have more than 800 branches all over India.

You can use the online Bajaj Finserv Gold Loan Calculator before you apply for the loan to plan your repayment better.

Apart from new gold loans, Bajaj Finance also offers an easy balance transfer facility. You can transfer an ongoing gold loan from your existing lender to us.
Gold Loan Features and Benefits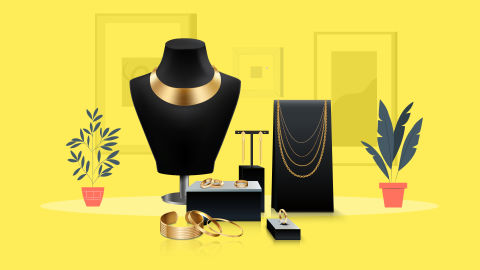 00:45
Features and benefits of our gold loan
Watch this video to know more about the key features and benefits of our gold loan.
Part-release facility

With our part release facility, you can repay a part of your loan and take part of your gold jewellery back before the end of your loan tenure.

No part-prepayment or foreclosure fee*

Repay a part of your loan in advance or pay the entire amount at no extra cost.

Transparent evaluation

We use best-in-class karat meters across all our branches to make sure you get the most value for your gold.

Free insurance of gold

Our free insurance covers against theft or misplacement of your gold jewellery while it is in our custody.


Convenient repayment options

We offer multiple repayment options where you may choose to pay interest on a monthly, bi-monthly, quarterly, half-yearly, or annually basis as per your convenience. Please note that the principal amount and pending interest, if any, will be due for payment at the time of loan maturity.

Easy application process

Apply for a gold loan online. Our representative will help you with your application when you visit our Gold Loan branch in your city.

Gold loan of up to Rs. 2 crore

We offer instant gold loans starting from Rs. 5,000 up to Rs. 2 crore. You can choose the amount that suits you best from the offer extended to you.

800 branches and growing

We have recently opened 60 new branches and are adding more across India. We are also opening new branches in the cities that we operate in.

Still haven't found what you are looking for? Click on any of the links at the top of this page.
Eligibility Criteria and Documents Required for Gold Loan
Anyone can apply for a gold loan for farming, as long as they meet the basic criteria mentioned here. They will be asked to submit a few basic documents to complete their application process.
Eligibility criteria
Nationality: Indian
Age: 21 to 70
Gold purity: 18-22 karat
Documents required
Any one of the following:
Aadhaar card
Voter ID card
Passport
Driving licence

NREGA job card
Letter issued by National Population Registration
PAN card is not required. However, if you apply for a gold loan of Rs. 5 lakh or above you will be asked to submit your PAN card.
Did you know?

A longer gold loan tenure can lower your rate of interest.

Did you know?

You can get a gold loan with just one KYC document.

Did you know?

There are very few restrictions on how you use your Bajaj Finance Gold Loan.

Did you know?

Bajaj Finance has more than 800 gold loan branches across India.
How to apply for Gold Loan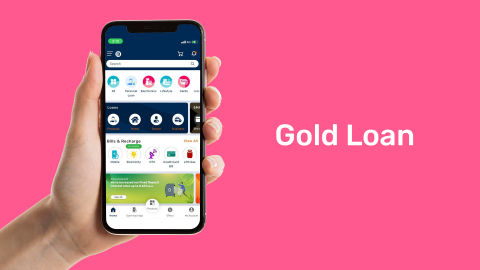 00:57
Gold Loan Interest Rate and Applicable Charges
Types of fee

Applicable charges

Interest rate

9.50% to 28% per annum


Processing fees

0.12% of the loan amount (inclusive of applicable taxes).
Subject to a minimum Rs. 99 (inclusive of applicable taxes) and maximum of Rs. 600 (inclusive of applicable taxes).


Stamp duty (as per respective state)

Payable as per state laws and deducted upfront from loan amount

Cash handling charges

NIL


Penal Interest

3% per annum on outstanding balance

Penal Interest margin/ rate will be over and above the interest rate slab mentioned above which shall be applicable/ chargeable in case of default in repayment of the outstanding dues post maturity.

Part-prepayment charges

NIL

Foreclosure charges


Minimum 7 days interest

Scenario – Foreclosure charges are "0", but in case the customer closes the loan within 7 days of booking, minimum 7 days interest is charged.

Auction charges

Charge for physical notice – Rs. 40/- (inclusive of applicable taxes) per notice

Recovery charges – Rs. 500/- (inclusive of applicable taxes)

Advertisement fee – Rs. 200/- (inclusive of applicable taxes)
The interest rates applicable on gold loans are dynamic and frequently change due to external factors.
Still have not found what you are looking for? Click on any of the links at the top of this page.
Frequently asked questions
Getting a loan against your gold jewellery is one of the easiest ways to meet any unplanned expense. To get a loan against from Bajaj Finance, you can either apply online or simply visit the nearest gold loan branch in your city. To apply for an online gold loan, follow the steps mentioned below:
Visit the Gold Loan section of the website
Click on the online application form
Enter your 10-digit mobile number and click on 'GET OTP'
Enter OTP to verify your details
Select your state and city to locate your nearest branch
Enter your full name and date of birth as per your PAN
Set up your appointment at the nearest branch in your city
Once the application is submitted, one of our representatives will connect with you to help you with the process further.
Who is eligible for a gold loan?
Any Indian citizen, be it salaried, self-employed, trader, farmer, or businessperson, can apply for a gold loan.
You must be between 21 and 70 years of age and have gold jewellery of 18-22 karat.
When should you apply for a gold loan?
You should apply for a gold loan when you need money for some unplanned expenses. Also, a gold loan is a good option if you already have the burden of an ongoing loan. You can apply for a gold loan by pledging gold jewellery you may have at your home. To get a gold loan, you can walk in to the nearest Bajaj Finserv Gold Loan Branch in your city. In case you are looking for a more convenient option, you could also fill the gold loan application form on the Bajaj Finserv website.
Can you get a gold loan on jewellery?
A gold loan is a kind of secured loan that you can get from lenders like banks or Non-Banking Financial Companies (NBFC). Here you have to pledge your gold jewellery as collateral to get the loan against gold.
Lenders decide the loan amount after checking the weight and purity of your gold jewellery. They do the LTV calculation, which is 'loan to value' ratio. The loan amount provided by the lender is up to 75% of the value of your gold jewellery. The value is based on the current market value of gold.