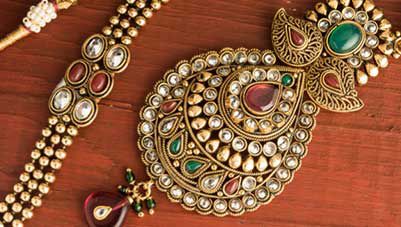 How to take Loan Against Jewellery?
Like any other secured loan, a loan against jewellery is easy to avail against minimum eligibility criteria and simple documentation. Prominent lenders provide these loans against gold jewellery. Accessing financing is quick and easy too as an individual only needs to offer gold as collateral, which suffices against most risks financial institutions undertake in lending.
With the best lending institutions, expect to receive the highest per gram financing in the form of jewel loan. When in need of immediate funding, utilise the underlying value of your idle jewellery to avail finance. Follow a few simple steps to gain access to the advance with ease.
Steps to avail a loan against gold jewellery

Step 1: Assess your loan amount eligibility based on the value of gold ornaments you own.
Step 2: Choose a suitable lender such as Bajaj Finserv offering jewellery loan with multiple user-friendly features and benefits.
Step 3: Visit the official website and navigate to the loan against jewellery online application page.
Step 4: Fill out the necessary personal, financial, and ornament details with accuracy.
Step 5: Next, complete paperwork by submitting the necessary documents required, like identity proof and address proof.
Step 6: Complete fast handover of the gold ornaments to a representative of the lender visiting your home.
Once all these steps are complete, the lender assesses jewellery value and approves an appropriate amount of loan on gold jewellery for you, which usually follows quick disbursal. Alternatively, you can apply via a phone call and a branch visit. Check out the common features and benefits of a gold loan.
Features and benefits of Jewellery Loan
Financing up to Rs. 2 crore: Borrowers can easily finance their big-ticket expenditures with a high-value gold jewellery loan of up to Rs. 2 crore

Top safety protocols for gold collection and storage: Your gold ornaments are kept within top-notch security under all-day surveillance in the safest vaults placed in rooms with motion detectors
Evaluation accuracy and transparency: During gold jewellery evaluation, borrowers can rest assured of accuracy and transparency. We utilize industry-grade tools such as carat metre, so you get the right financing value as gold loan per gram
Convenient repayment: Borrowers can choose from a range of repayment options to suit their budgets, from simple EMI payments to periodic interest payments
Facility for partial release: Should you need a part of the pledged ornaments midway, there's an option to avail the partial release of the gold items but after you repay the equivalent amount
Prepayment options: An option to part-prepay or foreclose the loan account anytime before the tenor's end at no cost enhance your savings.
Complementary insurance against misplacement and theft: The pledged ornament also enjoys complementary insurance in case of theft or misplacement, keeping the borrower immune to such losses.
Jewel loan interest rates and charges

You can get access to the necessary financing by pledging your gold jewellery and repaying at nominal jewel loan interest rates. Other rates and charges on such advances are transparent and affordable.
Keep a check on the metal's market rates and inflation rates to time your financing properly. Arrange all necessary documents before applying for the loan against jewellery to experience streamlined processing of your application.
Frequently asked questions
A jewel loan is a secured form of finance, where you can get funds against your 22-karat gold jewellery, which is submitted to the lender as collateral.
What is the interest rate on a jewel loan?
Bajaj Finserv charges nominal jewel loan interest rates, starting from 9.50% per annum.
How is jewel loan interest calculated?
The frequency of your repayment plan influences the interest levied on your jewel loan. By choosing a repayment plan with more frequent and regular EMIs, you stand to get a lower jewel loan interest rate.
Can we get loan on jewellery?
Yes, you can get a loan up to Rs. 2 crore against 22-karat gold jewellery. Note that other forms of gold are not acceptable as collateral.