Get a home loan at an EMI of Rs. 729/lakh*
Bajaj Finserv offers a home loan of Rs. 15 Crore* based on your eligibility, to buy your dream home at a low interest rate starting from 8.45%* p.a. A housing loan with us comes with several benefits, like a flexible tenure of 40 years, no foreclosure fee, hassle-free application along with 5,000+ approved projects for a quick loan process.

4 unique variants of our home loan
Fresh Home Loan

The fresh home loan variant offers a hassle-free application process and competitive interest rates. Here is what sets it apart:

Simplified application: Applying for a fresh home loan is quick and straightforward. Bajaj Finserv streamlines the documentation and approval process to get you started on your homeownership journey sooner.

Attractive interest rates: Enjoy competitive interest rates starting from 8.45%* p.a. that make your home purchase more affordable.

Flexible repayment options: Tailor your loan repayment schedule to match your financial capabilities. Bajaj Finserv allows you to choose repayment tenure up to 40 years, ensuring comfortable EMI payments.
Home Loan Balance Transfer

If you already have a home loan from another financial institution, the Home Loan Balance Transfer variant from Bajaj Finserv is your chance to save money and reduce your loan burden. Here is why it is unique:

Lower interest rates: Bajaj Finserv offers attractive interest rates starting from 8.50%* p.a. for transferring your existing home loan. Lower rates can significantly reduce your overall interest payments, saving you money.

Simplified process: Bajaj Finserv ensures a hassle-free transfer process, minimising paperwork and formalities. You can smoothly transition your loan to benefit from better terms.

Home Loan Top-up

Sometimes, you may need extra funds to meet personal or financial goals. The Top-up facility allows you to secure additional financing. Here is why it is a unique offering:

Top-up facility: Besides transferring your existing loan, you can also avail of a home loan top-up. This extra amount can be used for various purposes like home renovations, education expenses, or other financial needs.

Quick processing: The application and approval process for a top-up loan is generally quicker and more straightforward than applying for a new loan.

Pre-approved Home Loan

As an existing customer, you can get exclusive pre-approved home loan offers tailored to your needs, offering numerous benefits to make your home buying journey smoother than ever before.

Exclusive pre-approved offers for existing customers: These offers come with a host of benefits, starting with highly attractive interest rates. You can secure your home loan at a rate that is not just competitive but also light on your wallet, making your homeownership dream more affordable.

Quick approval in 48 Hours*: With Bajaj Finserv you can get your loan sanctioned within 48 Hours*. This swift approval process means you can act quickly when you find the perfect home, ensuring that you do not miss out on any opportunities.

Hassle-free process: With our pre-approved home loan, you can expect a seamless journey from application to disbursement.
Features and benefits of our home loan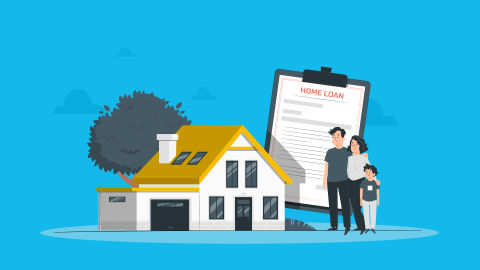 00:38
Home Loan - Features and benefits
Our Home Loan offers a sizeable loan and competitive interest rates. Know other benefits.
Loan of Rs. 15 Crore*

Buying a home is one of the biggest milestones. Achieve it with a sizeable amount of Rs. 15 Crore* of Bajaj Finserv Home Loan.

Low interest rates

With our loan interest rates starting at 8.45%* p.a., pay EMIs as low as Rs. 729/lakh*.

Approval in 48 Hours*

Your loan application will be approved within 48 Hours* of your application, in some cases, even earlier.

Tenure of up to 40 years

Pay back your loan comfortably with our long repayment tenure ranging up to 40 years.

No foreclosure fee for individuals

Individual borrowers who choose a floating interest rate can foreclose the entire amount or prepay a part of the loan without paying an additional fee.

Hassle-free application

Our doorstep document pick-up service helps to skip numerous branch visits and enables an easy application process.

Balance Transfer facility

Benefit from our home loan balance transfer facility and be eligible for a top-up loan of up to Rs. 1 Crore*.

5000+ approved projects

Choose from our 5000+ approved projects to avail of a quick loan.

Externally benchmarked interest rates

You can opt for interest rates linked to an external benchmark, such as the Repo Rate to benefit during favourable market conditions.

*Terms and conditions apply
Eligibility criteria and documents required
Anyone can apply for our home loan as long as they meet the criteria mentioned below.
Eligibility criteria
Nationality: You must be an Indian citizen residing in India.
Age: A salaried applicant must be between 23 years to 62 years, and a self-employed professional must be between 25 years to 70 years.
*The upper age limit is considered as the age at the time of loan maturity.

CIBIL Score: A CIBIL Score of 750 or higher is ideal to get a home loan.
Occupation: Salaried, self-employed professionals like doctors and self-employed non-professionals are eligible to apply.

Documents required:
KYC documents (identity and address proof)
Proof of income (salary slips or P&L statement)
Proof of business (for self-employed applicants), and
Account statements for the last 6 months
Note: This is an indicative list that may change based on your actual loan application.
How to apply for a home loan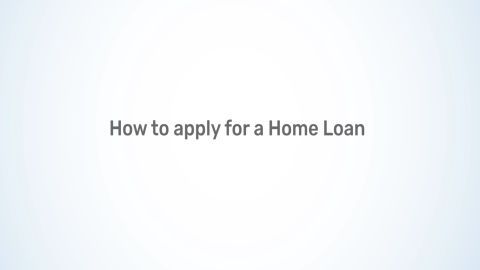 01:36
Did you know?

You can avail of tax benefits on your home loan that can help you save on taxes.

Did you know?

You can transfer your home loan to us and get additional benefit of top-up loan.

Did you know?

You can calculate your EMIs by using our EMI calculator and plan better.

Did you know?

A higher CIBIL Score will help you get better home loan interest rate.
Applicable fees and charges
We advise you to read about our fees and charges thoroughly before applying.
Type of fee

Applicable charges

Rate of interest

Salaried

Self-employed

Doctors

8.45%* to 14.00%* p.a.

9.10%* to 15.00%* p.a.

8.60%* to 14.00%* p.a.

Processing fees

Up to 7% of the loan amount

Bounce charges

For loan amounts up to Rs. 15 lakhs: Rs. 500

For loan amounts from Rs. 15,00,001 to Rs. 30,00,000: Rs. 1,000

For loan amounts from Rs. 30,00,001 to Rs. 50,00,000: Rs. 1,500

For loan amounts from Rs. 50,00,001 to Rs. 1,00,00,000: Rs. 2,000

For loan amounts from Rs. 1,00,00,001 to Rs. 5,00,00,000: Rs. 3,000

For loan amounts from Rs. 5,00,00,001 to Rs. 10,00,00,000: Rs. 5,000

For loan amounts more than Rs. 10 crores: Rs. 10,000


Penal interest

Up to 24% per annum in addition to the applicable interest rate on the overdue amount


Secure Fee
Up to Rs. 10,000 + GST as applicable
Interest and Principal Statement Charges
NIL

Part-prepayment charges

NIL

Foreclosure Charges

NIL

Loan Statement Charges
Up to Rs. 500 + GST as applicable

Still haven't found what you are looking for? Click on any of the links at the top of this page.

Frequently asked questions
A home loan is a credit borrowed from a financial institution to buy a home. The home loan is given at an interest rate depending on your profile. While taking the loan, you choose a repayment period to pay back the amount (principal) and interest in equated monthly instalments (EMIs). You can either choose a fixed interest rate or a floating interest rate.

What is the maximum home loan that I can get?
You can easily get a home loan of Rs. 15 Crore* or even higher from Bajaj Finserv if you meet our eligibility criteria. The sanctioned loan amount depends upon essential factors like your age, income profile, CIBIL Score, and among other criteria.
What documents do salaried professionals require for a home loan application?
Salaried professionals applying for a fresh home loan with Bajaj Finserv, must have the listed documents:
KYC documents (identity and address proof)
Proof of income (salary slips)
Account statements for the last 6 months

What documents do self-employed individuals require for a home loan application?
Self-employed individuals applying for a fresh home loan from Bajaj Finserv, must have the listed documents:
KYC documents (identity and address proof)
Proof of income (P&L statement)
Proof of business
Last 6 months' account statements, etc.

How long does it take to get a home loan sanction from Bajaj Finserv?
Once you have submitted all the essential documents, the loan amount will be approved within 48 Hours*. In some cases, it can get sanctioned even earlier.
* Terms and conditions apply

What are the tax benefits on home loan?
You can get tax benefits on home loan. Home loan tax benefits include deduction of Rs. 1.5 lakh on the principal amount under Section 80C. Additionally, Section 24B allows tax deduction of Rs. 2 lakh on the interest repayment. You can also claim tax deductions for registration fees and stamp duty charges under Section 80C.
When do home loan EMIs start?
You start paying your home loan EMI when the disbursement cheque is created. Once you receive the loan amount, you begin paying EMIs as per the EMI cycle. This means if your chosen date for EMI repayment is the 5th of a month and you receive the loan on the 28th of the month, then for the first month you pay EMI calculated from the day your house loan was sanctioned to your first EMI date. Next month onwards, you pay regular EMIs on the designated day.
Can a home loan be taken jointly in India?
Yes, if you want to get a bigger loan, you can take opt for a joint home loan. Family members, such as spouses, parents, siblings, and offspring, can be co-applicants for a joint house loan.
What is the home loan processing fee?
The processing fee is among the fees that you'll have to pay on a home loan. A home loan processing fee is a one-time fee charged by the lender once your housing loan application has been accepted. While some lenders charge a processing fee for home loans, others do not.
How does a home loan work?
A home loan is secured in nature, i.e., the loan amount is sanctioned against a collateral, which is the property in question.
The loan amount is sanctioned at a predetermined interest for an agreed-to period, also known as the 'tenure.' The borrower repays the loan with interest through a home loan EMI, payable every month. The property ownership remains with the lender till the home loan repayment is complete, including interest.
Can I get 100% home finance?
No. As per RBI guidelines, no lender is permitted to offer 100% home financing. You need to make a down payment amounting to 10-20% of the property's purchase price. Typically, you can obtain up to 80% housing loan financing for your property.
Which home finance is the best: Fixed or floating interest rate?
Both types of home loans have their pros and cons. With a fixed-rate home loan, the interest rate remains constant through the tenor, which allows you to forecast EMIs. Pick it when home loan interest rates are low and when you want fixed EMIs.
With floating-rate home loans, the interest rate alters basis economic changes and RBI policy decisions. Choose this variant when you expect rates to reduce in the time to come. Additionally, the RBI mandates that you do not need to pay any prepayment or foreclosure charges if you're an individual borrowing a floating rate home loan.
What are the different types of home loans available in India?
Basis the different requirements for home finance and varied customer profiles, the types of home loans available in India are:
Home construction loan
Home loan balance transfer
Top-up loan
Joint home loan
Loans under the Pradhan Mantri Awas Yojana scheme
Home loan for:
Women
Government Employees
Advocates
Bank Employees
Private Employees
Which factors affect your home loan eligibility?
Availing of a house loan requires an individual to meet the eligibility criteria that ensure a borrower's capacity to repay. The factors that affect eligibility are:
A person's credit score
Monthly income
Current financial obligations and debt
Employment status
Age of the applicant
Property to be purchased
Can I switch to floating-rate from fixed-rate during my loan tenor?
Yes, you can switch from a floating rate of interest to a fixed rate during the repayment tenor of your housing loan. You need to pay a nominal amount as a conversion fee to your lender for switching.
Is opting for housing finance worth it?
Opting for a housing loan is a smart financial decision for the following reasons:
It brings additional financing to fund your housing dreams without affecting your savings
You can choose from several housing loan options as per your requirements
The interest rates are affordable and make loan repayment more convenient
Long tenor allows for repayment towards the loan in easy EMIs
Can I take 2 home loans at a time for the same property?
No, availing two housing loans at a time for the same property is restricted as per the CERSAI. However, individuals can opt for a house loan balance transfer to refinance their existing housing credit at a lower rate of interest. The facility comes with the top-up loan facility - an additional loan over and above the existing loan amount. Avail the funds to meet diverse financial necessities with ease.
How to get a housing loan with ease?
Proceed with the following steps to avail a home loan with ease.
Check your credit reports and rectify errors, if any 
Estimate EMIs with a home loan calculator and decide on the loan amount as per repayment capacity
Keep all the necessary documents handy
Compare the available offers for the best housing loan option
Ensure to meet all eligibility before applying
When does the loan repayment period start?
The repayment period for loans begins immediately after the lender has disbursed the entire housing loan amount. However, in cases of partial disbursal, the interest accrued on such a disbursed amount is required to be paid as pre-EMI. Full EMI payment including the principal and interest amount starts after full disbursal of the loan.
Is home loan insurance mandatory?
No, it is not mandatory that you take home loan insurance along with your loan. However, you may consider getting insurance to take care of any liability at a marginal increase in your EMIs.
How to track home loan application status?
You can check the status of your housing loan application online by entering your home loan application number/ ID, as well as your mobile number/ contact information.
You can also contact your home loan lender and ask about your home loan application status by providing your application ID/ reference number.
Who can be co-applicants for a home loan in India?
Only mentioned relatives are eligible to be co-applicants for home finance:
Unmarried Sons and daughters can apply for a joint home loan with their parents. A husband and wife can apply jointly. A brother and a sister can apply for a home loan together, but a brother-sister or sister-sister pairing is not permitted.