Features and benefits of our Insta Personal Loan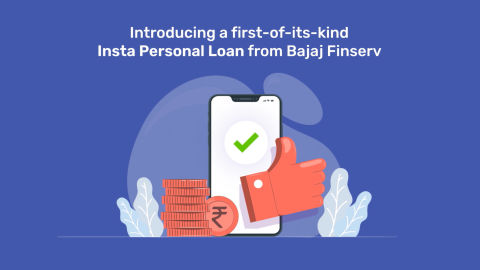 All you need to know about our Insta Personal Loan
Watch this video to know everything about our Insta Personal Loan - features and benefits, fees & charges, etc.
Pre-assigned limits

No need to complete the entire application process to know how much loan you will get.


All you need is a valid mobile number

You can check your Insta Personal Loan offer by entering your mobile number and OTP.


Immediate processing

Our Insta Loans work like a green channel with no documentation required* and money in your account in just 30 minutes*.


Flexible loan tenures

Manage your loan repayment with options ranging from 6 to 60 months.


No hidden charges

You can read our fees and charges on this page and on our loan documents. There are no hidden charges.

*Applicable for select customers.


Still haven't found what you're looking for? Click on any of the links at the top of this page.

Managing planned or unplanned expenses can take a significant toll on your finances. However, with a Bajaj Finserv Insta Personal Loan, you can conveniently meet your long-awaited momentary needs or an emergency. You can access funds within 30 minutes* and get other benefits such as zero documentation, flexible repayment tenures, 100% transparency, etc. Moreover, you do not need to pledge your valuable assets as security or collateral to get our Insta Personal Loan offer.
Frequently asked questions
What is the maximum Insta Personal Loan amount I can get?
You can borrow up to Rs. 10 lakh based on your creditworthiness. From financing your child's higher education to consolidating your debt, you will find that an Insta Personal Loan is a versatile solution for handling a range of expenses.
Can I part-prepay my Insta Personal Loan?
Bajaj Finserv offers all its loans with a part-prepayment facility. After clearance of your first EMI, you can make part pre-payments up to six times a year.
What are the interest rates applicable on an Insta Personal Loan?
Bajaj Finserv offers Insta Personal Loans at attractive rates starting from 13% to 36% .
How soon can I get Insta Personal Loan in my account?
While a regular personal loan can be availed of in 24 hours*, select customers can get their Insta Personal Loan in just 30 minutes*.
*Terms and conditions apply