How to apply for new car finance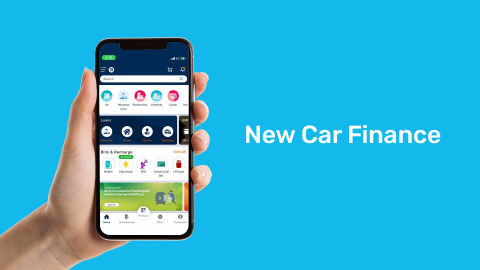 00:34
Frequently asked questions
How do I apply for new car loan?
To start the application process for new car finance, click on 'APPLY' on this page. Verify your profile by entering your 10-digit mobile number and submit the OTP sent to your phone.
Fill in the application form with a few basic details such as your name, date of birth, PAN, and the details of the finalised car brand and dealer.
Follow the instructions provided and wait for our representative to reach out to you.
How to get quick approval on your online application for new car finance?
While the application process for a new car loan from Bajaj Finance is easy, the approval process is fast and hassle-free.
Meet the simple eligibility parameters and make sure you have a CIBIL Score in excess of 720. Keep your basic KYC documents handy and complete the application online.
It's really that simple!
Check out the eligibility criteria for used car finance
What are the documents required to get new car loan?
You only require a few simple documents to get a new car loan from Bajaj Finance.
These include:
KYC documents - Aadhaar/ PAN Card/ Voter's ID/ Passport
Employee ID Card
Salary slips for the last 3 months
Bank account statements for the previous 3 months
Depending on your profile, you may be asked to submit a few additional documents. This may be communicated to you over the course of the application process.
What is the maximum loan amount I can get under new car finance?
While your eligibility for a new car loan may vary, you can expect an amount ranging from Rs. 1 lakh to Rs. 5 crore. You can choose from various car types, including hatchbacks, sedans, MUVs, SUVs, and premium cars and finance it using our new car finance.
Can I apply for a new car loan if I already have other ongoing loans?
Yes, you can apply for new car finance even if you already have one or more ongoing loans. However, remember that Bajaj Finance will evaluate your credit profile, your current CIBIL Score, and your debt-to-income ratio before approving your loan application.
To have a higher possibility of approval, make sure you repay your ongoing loans, maintain a healthy credit score, and manage your money well.
Check your CIBIL Score for free