What is credit score and how it works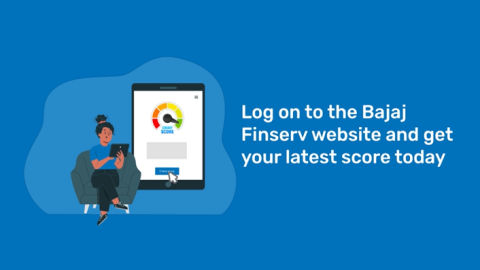 Steps to check your CIBIL Score for free
Your CIBIL score is a 3-digit number that measures your credit health. Watch this video to understand its importance.
Personalised offers

Get exclusive pre-approved offers on loans, credit cards, and more based on your credit score.


Better negotiating power with lenders

With a high CIBIL Score you have an edge over other borrowers and can negotiate for a better interest rate or a lesser processing fee.


Lower interest rates

If you have a high credit score, lenders will provide you with a comparatively lower rate of interest for availing loans or credit cards.


Easier loan approval

A high credit score indicates that you are a safe borrower. Lenders are more likely to approve your loan quickly.


Higher loan amounts

High loan amounts translate to increased risk for lenders. Hence, they prefer lending to borrowers who have a high CIBIL Score.


Longer loan tenures

Borrowers with a good CIBIL Score can benefit from loans with long tenures. This translates to smaller EMIs and reduces their monthly expense burden.

*Terms and conditions apply.

Still haven't found what you are looking for? Click on any of the links on the top of this page
Credit bureaus in India
Credit bureaus are data collection companies that maintain a record of customers' credit history on behalf of banks, non-banking finance companies, and other lenders. Credit bureaus publish a three-digit score that shows an individual's creditworthiness. There are a number of credit bureaus authorised by the Reserve Bank of India to collect customers' data. Here are the different credit bureaus in India.

One of the oldest credit bureaus in India. They provide you a CIBIL Score as a measure of your credit health.

This is another bureau from where you can get your Experian Credit Score and report.


Equifax Inc. is an American multinational consumer credit reporting agency operating in 15 countries throughout North America, Europe, Asia, and Latin America.


CRIF High Mark Credit Information Services

Founded in 2007, they are a credit information service provider in India covering segments like consumer, micro-finance and commercial.
Frequently asked questions
What is a good CIBIL Score?
Generally, a CIBIL Score in the range of 700-749 is considered a good CIBIL Score according to TransUnion CIBIL. With this score, you can qualify for credit offers from different banks and NBFCs. You can check your CIBIL Score anytime you want with the Credit Pass. Checking your score regularly has no impact on your score.

Sign up for Credit Pass
Already a Credit Pass holder? Log in here

What is the minimum CIBIL Score to get any loan?
No bank or NBFC specifies the minimum CIBIL Score required to get a loan. However, most lenders would prefer you to have a CIBIL Score of at least 700 and above. A credit score is a measure of your credit health. A high score reflects good credit health and increases your chances of getting your loan amount approved quickly.

How can you maintain a good CIBIL score?
Here are a few simple tips you can use to maintain a good CIBIL score:
Pay your monthly installments on time to build a good track record
Manage your credit card carefully, set payment reminders and limit your usage
Choose longer loan tenure carefully, try to make part-prepayments when you can
How can I improve my CIBIL Score?
Your credit score is based on your credit history. You cannot improve your score instantly. However, actions like timely repayment of loans, proper credit utilisation, checking CIBIL Health Report regularly to ensure that there are no errors can help improve your CIBIL Score over time.
Here are some other ways to improve your credit score
How to check your CIBIL score for Free?
You can check your CIBIL score for free right here on the Bajaj Finserv website (no consumer login or registration required).
All you need to do is follow these three simple steps:
Share some basic information about yourself
Verify your identity by confirming the OTP sent to your mobile number and email ID
Check your CIBIL score and report.
It's free and it is really that easy. And the best part? Checking your CIBIL score on the Bajaj Finserv website has no impact on your credit score!
How to check CIBIL Score with Credit Pass?
With Bajaj Finserv Credit Pass, you can check CIBIL Score by simply logging to your Credit Pass account. You can check your score on your personalised dashboard. In addition, you can access the factors affecting your score and download your detailed Credit Health Report. You can sign up for the Credit Pass for free. The pass is valid for 12 months.

Sign up for Credit Pass
Already a Credit Pass holder? Log in here

Why is checking your CIBIL Score important?
Your CIBIL Score is a measure of your credit health. Lenders like banks and NBFCs check your credit score before approving you for any credit. Checking your CIBIL Score and report regularly can help you fix any errors and take necessary steps to improve your credit score for easy credit approval. With the Bajaj Finserv Credit Pass you can check your CIBIL Score whenever you want. You can also check your detailed credit report.

Will checking your CIBIL report repeatedly hamper your score?
When you check your own CIBIL score, it is considered a "soft inquiry" and does not leave a negative impact on your credit score. However, if a lender or a credit card issuer requests CIBIL to check your credit report (usually when they are considering you for a loan or credit card), it is counted as a "hard inquiry". Hard inquiries are recorded in the enquiry section of your credit report.
Multiple hard inquiries, if done over a relatively short period of time, demonstrate what is called "credit hungry behaviour" and may hurt your credit score. But a soft inquiry, at least once a year, is considered an important financial habit.
Why do lenders check your CIBIL score before approving your loan?
As you may be aware, your CIBIL score measures your creditworthiness. Your lender chooses to check your score for a several of reasons,including:
To check your credit record and history
To measure your capacity to repay the loan
To review your credit balance and sense the risk level of your profile
To identify if you meet the lender's loan eligibility criteria
To arrive at the loan amount and interest rate suitable for you
Therefore, your CIBIL score is an important tool to help you manage your financial health.
Why must you check your Credit Score?
A low credit score becomes an obstacle for borrowers to avail desired loan amounts at a low-interest rate. However, users can purchase their CIBIL report. From your CIBIL report, you can check your CIBIL score whenever you want. For that, you have to follow some steps.
A CIBIL report contains your credit history as given by the financial institutions and banks. Also, you can get access to your CIBIL score and other financial behavior. To avail of your CIBIL report, a user needs to take a subscription. Credit rating agencies facilitate different subscription packages for users. Make a subscription request to the respective agency, and they will send you a mail.
Then, if you want to purchase your CIBIL report, you will have to download the mail from the agency. Then correctly fill the information in the form that came attached in the mail. You have to provide your basic KYC documents and a demand draft of the requested amount along with your form.
Users can visit their CIBIL report for any purpose they want, like checking their CIBIL score, financial status, etc. However, once the subscription period ends, the user won't have access to this report and will need to renew their subscription.
Explain the difference between a Credit Score, Credit Rating, and a Credit Report?
Credit score, credit rating and credit report are often interchangeably used. However, they each have a different meaning.
A credit report outlines a detailed list of all the credit lines and payments done by the user. It will involve the following information:
Personal data of the user
A detailed list of closed and open loan accounts involving dept amounts of credit card
Credit inquiry by user
A public record of foreclosures, bankruptcies, judgment on civil suits, etc. Every credit report will contain a credit score.
A credit score is a three-digit number ranging from 300 to 900 and is contained in a credit report. A credit score is important because it proves a borrower's creditworthiness to all kinds of lenders. The score will go up and down depending on users' financial activities.
Credit rating is a quantified inspection of the creditworthiness of an applicant is referred to as credit rating. Any entity seeking to borrow a loan is liable to credit rating inspections, whether a person, a firm, a sovereign government, or state provincial authorities.