Eligibility criteria and documents required
Anyone can apply for our loan against property as long as they meet the criteria mentioned below.
Eligibility criteria
Nationality: You must be an Indian citizen residing in India with property in a city we operate in.
Age: Minimum age: 25 years* (18 years for non-financial property owners)
Maximum age: 85 years* (including non-financial property owners)
*Age of the individual applicant/ co-applicant at the time of loan maturity.
*Higher age of co-applicant may be considered up to 95 years basis 2nd generation (legal heir) meeting age norms and to be taken as co-applicant on loan structure.

CIBIL Score: A CIBIL Score of 700 or higher is ideal to get an approved loan against property.

Occupation: Salaried, self-employed professionals like doctors, and self-employed non-professionals are eligible to apply.

Documents required:
Proof of identity/ residence
Proof of income
Property-related documents
Proof of business (for self-employed applicants), and
Account statements for the last 6 months

Note: This is an indicative list that may change based on your actual loan application.
How to apply for a loan against property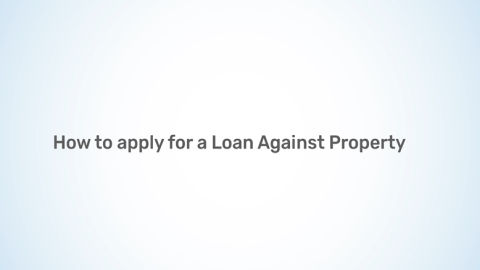 01:22
Frequently asked questions
What is the tenure for a loan against property?
If you need high-value financing for a business or personal reason, a loan against property from Bajaj Finance is one of the most suitable financing solutions. The financial instrument's suitability is not only because of the high-value funds one can avail of but also because of the option of flexible repayment tenure ranging up to 15 years*.
Note that the longer the loan against property tenor, the higher will be the EMIs and the total interest payable.
What security is required for a mortgage loan approval?
A loan against property is one of the most preferred secured loans in India, as applicants are free to use the funds as they deem fit. Bajaj Finance offers up to 75–90% of a property's market value as a loan. Provide any of the following as collateral for a mortgage loan with instant approval and disbursal:
Residential properties (both self-occupied and rented)
Commercial properties (both self-occupied and rented)
Residential plot with no construction
Industrial properties
Fulfill our simple eligibility criteria regarding age, employment status, etc., and submit minimal documents to enjoy the fastest mortgage loan approval with Bajaj Finserv.
What can a loan against property be used for?
A Loan Against Property (LAP), also referred to as a mortgage loan, is a secure borrowing option where you offer your property (typically residential or commercial) as collateral to the lender in exchange for funds. These funds acquired through a Loan Against Property have diverse applications. Here are several common uses:
Debt consolidation: This loan can be employed to settle high-interest debts, such as credit card dues, personal loans, or existing loans.
Business growth: Business proprietors can channel the funds to expand their ventures, acquire new equipment, or invest in infrastructure.
Education funding: The loan can cover higher education costs for you or your family members, encompassing tuition fees, living expenses, and related costs.
Medical expenses: A Loan Against Property can be instrumental in covering substantial medical bills or surgeries not adequately addressed by health insurance.
Home enhancement: The funds can be directed towards renovating or upgrading your property, augmenting its value and enhancing your living environment.
Wedding costs: This loan can offset significant wedding expenses, including venue charges, catering, decorations, and more.
Real estate investment: Some borrowers opt to use the funds for investing in additional real estate properties, capitalizing on potential investment prospects.
Travel opportunities: You can utilize the loan to finance a desired vacation or travel experience that might be beyond your immediate financial means.
Emergency coverage: During emergencies like unforeseen medical costs or unexpected financial obligations, a Loan Against Property offers a source of necessary liquidity.
Can there be a co-applicant for a loan against property? If yes, who can be co-applicant?
Bajaj Finserv provides customised loans against property based on the mortgage's current market value. If the property value is insufficient to sanction the required amount, you can opt for a loan against property co-applicant.
What should be an applicant's minimum monthly income to avail of a loan against property from Bajaj Finserv?
Bajaj Finserv does not lay down a minimum monthly income requirement to avail a Loan Against Property. However, a salaried individual must be employed with an MNC, a public sector company, or a private company. As for a self-employed applicant, he/she should have a regular income source. Applicant should provide supporting income proof documents to avail of this loan.
What are the minimum and maximum age criteria for a Bajaj Finserv Loan Against Property?
To avail of a loan against property from Bajaj Finserv, a salaried individual must be minimum 25 years old and maximum 85 years. For self-employed individuals, the minimum age is 25 years and the maximum is 85 years. You must also check the other property loan eligibility criteria before applying.
How much loan against property can be availed by an applicant?
The maximum amount with a loan against property that an applicant can avail depends on the employment status. Self-employed or a salaried professional can avail a loan against property of up to Rs. 10.50 Crore*.
Can an NRI take a loan against property?
No, an NRI cannot avail of a loan against property. One of the eligibility criteria to avail of a loan against property from Bajaj Finserv is that the applicant must be an Indian citizen.