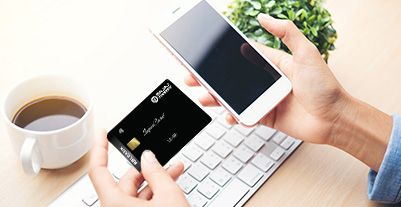 How to get a credit card statement?
A credit card statement is a record of all the transactions that you've made in a month or billing cycle using your credit card. The statement is sent by the credit card issuer every month and you can also view your credit card statement online.
How to check your Bajaj Finserv RBL Bank credit card statement?

Through net banking
Log in to your account, view and download the statement. If you are not registered for online banking services, enter your 16-digit credit card number to sign up.
Through email
Your Bajaj Finserv RBL Bank credit card statement is also sent to your registered email ID. Check your email and download it in a few clicks.
How to get your credit card statement offline?

Call customer care and receive credit card statement through post
Dial the customer helpline number and our representative will assist you in receiving the statement at your residential address through post.
Sign up to receive credit card statement with an SMS:
Type 'GREEN' and send an SMS to 5607011 from your registered mobile number. This offline process activates the e-statement service for your credit card. Once you send the message, the process is initiated and you receive an approval within 48 hours. With this activation, you can check your e-statements from the next billing cycle.
Read your credit card statement to know the following details:
Total amount due and minimum amount due on your credit card
The due date of payment
Your available credit limit
Transactions made and taxes deducted
The opening and closing credit card balance check for the current billing cycle
Other details like reward points earned, reward points not redeemed, etc.
It is important to check your credit card statement every month to not only help you make payments to avoid penalties but also to spot and report unauthorised or suspicious transactions.