Fixed deposit variants
Get the dual advantage of safety and higher returns with our fixed deposit.
Fixed deposit
Interest Rates up to
8.35% p.a.
Systematic Deposit Plan
Interest Rates up to
8.60% p.a.
Senior citizen fixed deposit
Interest Rates up to
8.60% p.a.
Fixed deposit for NRI
Interest Rates up to
8.30% p.a.
Fixed deposit with special tenure
Interest Rates up to
8.60% p.a.

Fixed deposit calculator
Plan your investments better

Mutual funds calculator
Know how your money will grow over time
Disclaimer :
Mutual Fund Lumpsum / SIP calculator may provide potential investors an approximate estimate based on the investment duration entered / based on the maturity amount of the monthly SIP, purely on mathematical calculation of the projected annual return rate selected by investor. However, such calculation does not factor the actual performance by the Asset Management Company (AMC) and should not be treated as any advice or assurance about the actual return of investment. Hence, please note that the actual returns offered by a specific mutual fund scheme will vary depending on various factors including but not limited to actual performance, expense ratio, taxation, exit load (if any), etc.
How to invest in mutual funds
A step-by-step guide to invest in mutual funds

1. Click on DOWNLOAD TO INVEST. You will be redirected to the google play store / apple store.
2. Download or Open the Bajaj Finserv app.

3. Log in to your Bajaj Finserv account or sign up.

4. Click on the 'Investment' tab at the top of the app and select 'Invest Now'.
5. Click on the mutual fund category i.e., tax savers, equity, debt, hybrid, and thematic, you want to explore.
6. All the mutual funds of the particular category will be listed, along with the minimum investment amount, annualized return and rating.

7. Verify your details using your PAN, date of birth.
If your KYC is not complete, then you will have to upload your address proof and record a video. 

8. Enter your bank account details.

9. Upload your signature and provide some additional details to continue.
10. Choose and select the mutual fund that you want to invest in.
11. Choose whether you want to invest as SIP or lumpsum and enter the investment amount. Click on 'Invest Now'
12. Select your payment mode i.e., net banking, UPI, NEFT/RTGS.
13. Once your payment is done, the investment will be complete.

Your investment will start reflecting in your portfolio within 2-3 working days.

How to invest in a fixed deposit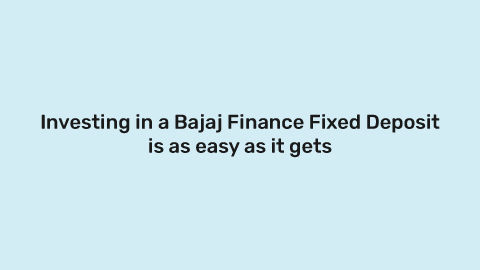 Bajaj Finance Fixed Deposit
If you're looking for a stable and high-yielding investment option, Bajaj Finance's Fixed Deposit is your answer. Watch this video to know more about its key features.
A step-by-step guide to invest in a fixed deposit

1. Click on 'Open FD' at the top of this page to open our online application form.
2. Enter your 10-digit mobile number and verify the OTP sent to your phone.
3. Fill in the investment amount, choose the investment tenure and the payout frequency. Enter your PAN card and date of birth.
4. Complete your KYC: If you are an existing customer, confirm the details available with us, or edit to make any changes. For new customers, complete your KYC using Aadhaar
5. A declaration will be displayed. Please read it carefully and agree to the terms and conditions. Enter your bank details and proceed to pay.
6. Complete your investment using NetBanking/ UPI or NEFT/RTGS.

Once your fixed deposit is booked, you will receive the Fixed Deposit Acknowledgement (FDA) on your registered email address and as a link on your mobile number. An Electronic Fixed Deposit Receipt (e-FDR) will also be sent to your email ID within 3 working days (subject to documents being in the correct order).
Frequently asked questions
Which investments fall under 80C?
80C allows investor to invest upto Rs. 1.5 lacs in various investment options. To avail tax exemption under 80C, you may invest in ELSS (tax saving) schemes of mutual funds through our platform/ app. To invest in tax saving schemes click here

Which investment gives the highest returns?
While selecting an investment avenue, you have to match your own risk profile with the associated risks of the product before investing. There are some investments that carry high risk but have the potential to generate higher inflation-adjusted returns than other asset class in the long term such as mutual funds, stocks. While some investments come with low-risk and therefore stable returns such as Fixed Deposits and Debt Mutual Funds.
There are multiple investment options offering high returns; some of the include:
a. Fixed Deposit
b. Systematic Deposit Plan
c. Mutual Funds
Why is investment important?
Investing is a successful approach to use your money and possibly increase your fortune. Your money may grow and outpace inflation if you make wise investment decisions. The power of compounding and the trade-off between risk and return is the main reasons investment has higher growth potential.
Why is FD the safest investment?
A fixed deposit is secure compared to market-dependent investment options like a mutual fund, SIP, and stock. Since a fixed deposit is not based on market expansion, its interest rate does not change over the course of its duration. Bajaj Finance FD rates have been rated AAA by CRISIL and ICRA. Fixed Deposit is one of the safest investment options in India as it enables the depositor to take control of the investments with great flexibility and offers guaranteed returns.

Know more about Fixed Deposit
An Asset Management Company (AMC) is a business that manages client funds that are pooled together and invests them in a variety of assets, such as stocks, bonds, real estate, master limited partnerships, and other investments.

Bajaj Finance FD rates have been rated AAA by CRISIL and ICRA. Fixed Deposit is one of the safest investment options in India as it enables the depositor to take control of the investments with great flexibility and offers profitable returns.
Can I get monthly interest on my investment?
When you invest in a fixed deposit, your money is locked in for the duration of the FD and you receive the interest. The investor can choose whether to receive such interest income regularly on a monthly, quarterly, half-yearly, or annual basis.
What are direct mutual fund plans?
Asset Management Company (AMC) offers two types of plan, i.e. Direct Plan and Regular Plan. Direct Plans are directly offered by a fund house, without the involvement of agents or third-party distributors. Such plans have a lower expense ratio than the regular plans. Apart from the expense ratio, everything else stays the same.

Difference in expense ratios between regular and direct plans can range from 0.5% to 1%. This difference directly affects the returns of regular and direct plans. If the expense ratio of a regular plan is 0.75% more than that of direct plan, then the direct plan will give 1% higher CAGR (compounded annual growth rate) return than the regular plan.
To invest in stocks, you need to open a Demat Account with us. Please click on "Open Account" and follow below steps:
Step 1: Update personal, address and bank details
Step 2: Choose subscription plan and make payment
Step 3: Upload KYC documents
Step 4: Complete your video KYC
Step 5: E-sign through Aadhar & submit application
To start a SIP, click on 'Mutual Funds' icon and select a scheme from 900+ direct plans for investment. You may choose to start your investment with as low as Rs. 100. Once done, add date of investment, SIP duration and select payment mode for first upfront instalment (UPI/ Netbanking/ NEFT).
• In case autopay is already approved, select the approved mandate from 'Select AutoPay section. Your SIP once registered will automatically get deducted through this mandate
• In case autopay is incomplete/ not yet approved, you will be re-directed to Autopay setup page post first upfront instalment
 
Powered by Bajaj Finserv Direct Limited