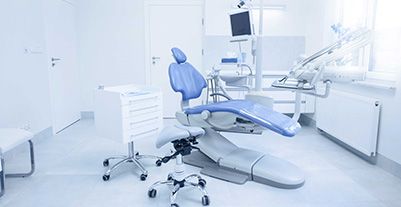 How can you set up your dental clinic?
A sound strategy is imperative to successfully setting up and managing a dental clinic. This strategy considers the location, costs involved, revenue projections, and marketing tactics. The financial aspect is particularly essential since the endeavour's success depends heavily on it.
The following sections provide a rundown of all the financial considerations that you need to make for a dental clinic setup.

What does the average dental clinic set-up cost?

A new dental clinic set-up cost can set you back by as much as Rs. 10 lakh, going by current market rates for materials. Here is a breakdown of these expenses.

Dental fillings

Dental drills: Approximately Rs. 20,000 each

Filling material: Up to Rs. 7,000/ 3gms

Dental burs: Around Rs. 3,000/ bur

Root Canal Treatment (RCT)

A dental X-ray sensor (necessary for RCT along with dental fillings): Approximately Rs. 1.5 lakh/ unit

Root Canal Obturation Cement + syringe: Approximately Rs. 6,500

Dental clinic set up basic kit
X-ray IOPA (Intra-Oral Periapical Radiograph) films pack
Developer and fixer
Root elevators
Crown remover
X-ray film holder
Surgical instruments
Other essential items
Cost of basic kit: Approximately Rs. 60,000/ kit
Dental implants

All the pieces of equipment for dental implants cumulatively cost around Rs. 2 lakh.

Alongside these, the cost of a dental clinic setup in small places and large urban settlements also includes:

Lease/ purchase/ renting of property

Computers, air conditioners, and refrigerators

Electricity, internet, water, and telephone charges

Staff salaries

Marketing costs

What is the equipment list required for a dental clinic setup?

Here is a list of equipment that you may need to set up a dental clinic:

Diagnostic instruments
For diagnosis, you may need single-ended, endo-locking, and double-ended probes, and CPITN probe. Other instruments include tweezers, mouth mirror, endo excavator, endo plugger, and so on.
Surgical instruments
Austin's retractor, Boley gauge, needle holder, suturing needle, bone files, and Boon's gauge are some of the common surgical instruments. You may also need straight, curved, angulated, bond-cutting, suture-cutting, end-bend, gum scissors, forceps kit, and so on.
Other equipment
In a dental set-up, you will also require a UV chamber, needle burner, hot water bath, glass beads steriliser, compressor, and dental chair. You may also need an X-ray viewer, dental X-ray, amalgamator, and implant motor. A laser, intraoral camera, and other equipment can be useful as per your specialisation.
Space requirements for dental clinic setup:
1. Reception area: A welcoming space for patients to check in, complete paperwork, and schedule appointments.
2. Waiting room: Comfortable seating to accommodate patients before their dental consultations.
3. Dental operators: Dedicated treatment rooms equipped with dental chairs, instruments, and tools.
4. X-ray room: A shielded area for X-ray equipment and patient safety during radiographic procedures.
5. Sterilisation area: A separate space for cleaning, disinfecting, and sterilising dental instruments.
6. Storage and supply room: To keep dental supplies, equipment, and patient records organised.
7. Consultation room: A private area to discuss treatment plans and address patient concerns.
8. Staff facilities: Restroom, changing room, and break area for the dental team.
9. Disabled access: Ensure that the clinic is accessible to patients with mobility challenges.
10. Utilities room: Space for electrical, plumbing, and HVAC equipment.
11. Parking: Sufficient parking space for patients and staff, if possible.
12. Compliance with regulations: Adherence to local building codes and healthcare regulations.
(Note: The specific space requirements may vary based on the size and scope of the dental clinic.)
What is the running cost for a dental clinic setup?
The running cost for a dental clinic setup includes various expenses essential for its day-to-day operations. These costs typically encompass staff salaries, rental or mortgage payments, utility bills, medical supplies, sterilisation materials, and equipment maintenance. Additionally, expenses for marketing, insurance, administrative tasks, and professional fees need to be considered. Staff training and continuing education may also be part of the running costs to ensure high-quality services. The actual running cost can vary depending on the clinic's size, location, patient volume, and services offered. Proper financial planning and efficient management are crucial to maintaining a sustainable dental clinic with manageable running costs.
How to finance your new dental clinic set-up
To finance the cost of dental clinic set-up, you can obtain a medical equipment loan. These are dedicated financing options curated to meet the need of dental practitioners. You can also secure up to Rs. 55 lakh from Bajaj Finance via a business loan for doctors. This loan adequately covers the full dental setup price without straining your savings.
 *(Inclusive of insurance premium, VAS charges, documentation charges, Flexi fees, and processing fees)
Frequently asked questions
How to set up a dental clinic?
Setting up a dental clinic involves creating a business plan, obtaining licences, choosing a suitable location, investing in equipment, hiring staff, and implementing sterilisation protocols for quality patient care.
How much does it cost to set up a dental clinic?
The cost of setting up a dental clinic can vary depending on factors like location, clinic size, equipment, and interior design. Planning and budgeting are essential to ensure a successful and cost-effective setup.
Do I need special permissions to open a dental clinic?
Yes, opening a dental clinic requires obtaining specific permissions and licenses from local health authorities and dental regulatory bodies. Ensure you comply with all the legal and regulatory requirements before commencing operations.
How much space is required for a dental unit?
The space required for a dental unit depends on the number of operatories and services offered. Additional space is necessary for reception, waiting area, sterilisation room, and staff facilities. Plan your space requirements based on the scope of your dental services and patient volume.