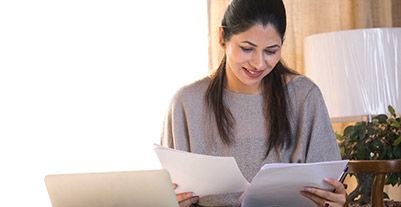 What is an overdraft facility?
An overdraft facility allows you to withdraw funds from a fixed line of credit (sanctioned loan amount) as and when you need and deposit funds in the same. Thus, you can withdraw and repay as per your convenience. This makes an overdraft facility one of the most desired credit options and saves interest cost for the borrower.
The Bajaj Finserv Flexi Personal Loan offers similar benefits.

Bajaj Finserv Flexi Personal Loan
With the Bajaj Finserv Flexi Personal Loan facility, you can make multiple withdrawals from your loan limit whenever you need funds. You can also prepay the loan at your convenience. The best part is that you need to pay interest only on the amount you have utilised from the entire sanctioned limit. The Flexi Hybrid Loan variant comes with the added advantage of paying only interest as EMIs during the initial tenure.
Benefits of a Flexi Personal Loan

Take a quick look at the advantages of a Flexi Personal Loan
With a Flexi Personal Loan, you only have to pay interest on what you have withdrawn and not the entire sanctioned amount.
As the amount is pre-sanctioned, you can withdraw from it instantly.

You can use funds from the loan as per your requirement — for personal, professional, planned, or unplanned needs.

As this facility simplifies borrowing and repaying, you can use this to build a good credit history and boost your credit score.

Apply now to avail these benefits of the Flexi Personal Loan facility offered by Bajaj Finserv.
Note: While we do not offer an overdraft facility, we extend similar benefits through our Flexi Personal Loans. You can read more about it here.