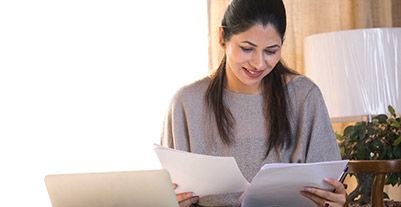 What is a personal overdraft facility?
An overdraft facility allows you to withdraw funds from a fixed line of credit as and when you need to. Repayment is also easy and hassle-free, as you can repay what you borrow at your convenience. This makes an overdraft facility one of the most desired credit options. Bajaj Finserv offers these features through its unsecured Flexi personal loan.
Bajaj Finserv Flexi Personal Loan
Through the Bajaj Finserv Flexi Personal Loan overdraft facility, you can make multiple withdrawals from your loan limit whenever you need funds. Moreover, you can part-prepay as per your financial flexibility. The best part is that you only need to pay interest on the amount you utilise from the entire sanction. You can lower your monthly outgo by up to 45%* when you opt to pay interest only EMIs for the initial portion of the tenor. You can withdraw and pre-pay as many times as you wish within the repayment window.

Additional Read: Overdraft Vs Personal Loan
Benefits of a personal loan overdraft facility (Flexi Personal Loan)

Bajaj Finserv's Flexi Loan facility offers the following advantages.
The personal loan interest rate applicable is nominal. Moreover, you only have to pay interest on what you use and not the entire sanction. This facilitates hassle-free repayment
As the amount is pre-sanctioned, you can borrow from it instantly, whether you are salaried or self-employed
There are no restrictions on end-use, so you can use funds from the loan as you deem fit—for personal, professional, planned or unplanned needs
As this facility simplifies borrowing and repaying, you can use this to build a good credit history and boost your credit score

Utilise these multiple benefits of the Flexi loan overdraft facility by applying for an instant personal loan from Bajaj Finserv.

*Conditions apply