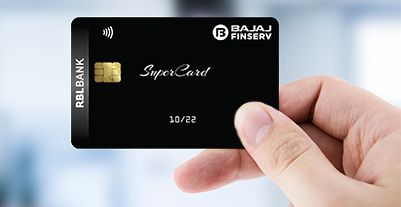 What are the advantages and disadvantages of credit cards
Credit cards are invaluable financial tools that give you access to instant credit during a cash crunch. You can also manage your finances better with the various features of a credit card, such as rewards and offers. The Bajaj Finserv RBL Bank SuperCard combines the power of 4 cards in 1 and makes your purchases more affordable and convenient.
Here are a few credit card advantages and disadvantages to keep in mind.

Advantages of a credit card
Big-ticket purchases with ease
You can purchase high-end products and services using your credit card and repay with ease later. Some credit cards also allow you to convert big-ticket purchases into easy, manageable EMIs.
 
Reward points usage
The Bajaj Finserv RBL Bank SuperCard offers attractive reward points with almost every transaction. Redeem these points for exclusive discounts, gift vouchers, cashback, and more.
 
Increases credit score
Payment of credit card bills in full within the due date every month increases your CIBIL score significantly. A good credit score can help you qualify for a loan or a new credit card with a higher credit limit easily in the future.
 
Interest-free cash withdrawal
The Bajaj Finserv RBL Bank SuperCard allows you to make interest-free cash withdrawals* from ATMs for up to 50 days. This helps you meet your urgent needs instantly and repay later easily.

Disadvantages of a credit card
High-interest rates
Failing to pay the outstanding dues on your credit cards within the due date incurs a high-interest rate. However, you can avoid paying additional interest by making timely repayments every month.
 
Can lead to overspending
The ease of using credit cards can often lead to overspending. This can create a debt burden and also affect your credit score negatively. Try to keep your credit utilisation ratio below 50% of the total available limit and be disciplined about repayment to avoid this.
Being responsible with credit card usage allows you to enjoy the advantages of a credit card and save more on your expenses.
*A flat processing fee of 2.5% is applicable. A minimum processing fee of Rs. 500 is charged on the transaction.
FAQ's
What is the benefit of having a credit card?
Credit cards offer the convenience of spending whenever you require. Further, you can enjoy benefits like a welcome bonus, reward points, and more. The use of credit also helps build your credit score but it is important to use them responsibly to avoid getting into debt and hurting your credit score.