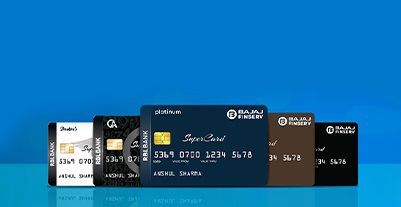 What are the types of credit cards?
From credit cards for travel to shopping, there are many cards available today to fit the customer's needs. Secured credit card, credit card for rewards, fuel credit cards, co-branded credit card and cash back credit card are just a few types of credit cards that are available today.
Types of credit cards in India
Travel credit card
Travel credit cards let you avail discounts on all airline ticket bookings, bus and rail ticket bookings, cab bookings, and more. Reward points are earned on every purchase. You can redeem reward points on future travel bookings. Make the most of complimentary access to VIP airport lounges, book tickets at discounted rates, and more with travel credit cards.
 
Fuel credit card
Save throughout the year on fuel spends by reducing your total transportation costs with a fuel credit card and avail fuel surcharge waivers.


Reward credit card
This credit card comes with accelerated reward points on specific purchases and transactions. Bonus points earned can be redeemed for discounts on future purchases or to reduce your monthly credit card bills.


Shopping credit card
Shop at our online or offline partner stores to get discounts on purchases or transactions with shopping credit cards. Avail cashbacks, discount vouchers and more throughout the year.
 
Secured credit card
With proper usage, credit card holders can improve their credit scores. A secured credit card against fixed deposit is one such credit card that gives attractive interest rates.

The Bajaj Finserv RBL Bank SuperCard comes packed with the power of four cards to help customers avail all the benefits with just one credit card.
Frequently asked questions
What are the 3 different types of credit cards?
Credit cards can be broadly categorised into rewards, low-interest, and credit building cards. On every purchase, rewards credit cards offer perks such as redeemable points, cashback, discounts, gift vouchers, etc. Low-interest cards charge a small amount as interest on the outstanding amount. Lastly, credit building cards assist those with a poor credit history.
What are the 4 types of credit?
The four types of credit include loans, service credit, instalment credit and credit cards.
What are the 7 categories of credit cards?
The seven categories of credit cards include:
Rewards credit cards
Secured credit cards
Low-interest credit cards
Cashback credit cards
Travel credit cards
Which is the best type of credit card?
Low interest and rewards credit cards are among the best types available.
That said, it's difficult to single out a credit card type as the best one. Some credit cards offer low interest rates, while some offer rewards. Similarly, some types of credit cards in India provide luxurious benefits like access to golf courses, airport lounges etc. The Bajaj Finserv RBL Bank SuperCard variants can be considered among the best because it carries the properties of four different cards in one.