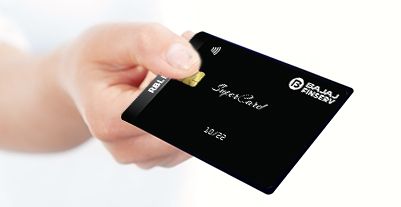 Credit cards meaning
A credit card is a financial offering that offers a credit limit for shopping and other transactions. The card also lets you convert your purchases into easy EMIs. You must repay the used credit limit on or before the due date to avoid interest.

All about credit cards
A credit card is a financial tool that lets you buy products on credit, and you can repay the utilised credit before the due date. To avoid interest, you should repay the credit amount within the due date.
Credit cards come with a card limit specified for each variant. Several parameters such as your CIBIL Score, income profile, and so on, will define your eligibility for a variant with a pre-approved limit. Credit cards are packed with a range of unique propositions and benefits, varying from card to card. For example, you may get benefits like welcome bonus points, accelerated points, airport lounge access, and more with one type of card, while another card may have a different set of benefits. You can check the features and benefits while applying for the card.
The key difference between a credit card and a debit card is that money gets deducted from your bank account when you swipe a debit card. In the case of a credit card, the money is taken from your credit limit.
You can swipe a credit card to make a payment online or offline for almost all products and services. After you apply for a credit card and begin to use it, make sure that the amount you have borrowed or utilised is repaid within the stipulated time frame to avoid penalty charges. Your credit card details are stored securely with the issuer. To avoid fraud, don't share your credit card information with anyone.
Choose the Bajaj Finserv RBL Bank SuperCard to get exciting offers and make shopping with the card a rewarding experience.
Types of credit cards
Bajaj Finserv has partnered with RBL Bank and DBS Bank to offer a variety of credit cards that come with the power of 4 in 1.
Use it as a standard credit card: Use your Bajaj Finserv co-branded credit cards to shop online or offline and make other transactions like bill payments, fuel recharge and more.
Use it as a debit card: You can use your credit cards to withdraw cash from any ATMs across India.
Use it as an EMI card: Bajaj Finserv co-branded credit cards offer the facility of EMI conversion as well. Convert your purchases above Rs. 2,500 into easy EMIs.
Use it as a loan card:

Use your Bajaj Finserv co-branded credit cards for emergency loans. Convert your available credit limit into an emergency loan.
Bajaj Finserv DBS Bank Credit Card comes in 8 variants while the Bajaj Finserv RBL Bank credit card, also known as the Bajaj Finserv RBL Bank SuperCard offers 19 unique variants.
What are the benefits of a credit card?
Credit card benefits may vary depending on your card provider and the variant applied for, usually, the benefits range is extensive.
Bajaj Finserv RBL Bank SuperCard benefits
It has 19 variants with a unique set of benefits. You can take these cards with the following benefits:
SuperCards variant name

Benefits

Application

Welcome rewards

Bajaj Finserv RBL Bank Platinum Choice First Year Free SuperCard

Annual fee waiver

Offer on movie tickets

Rewards on online spends

Rewards on regular spends

Cashback on travels

Cashback on fuel spends

Cashback on grocery shopping

Airport lounge access

5% cashback on down payments made at any Bajaj Finserv partner store

Milestone bonus

Cashback on grocery shopping

2x reward points on online spends
Bajaj Finserv DSB Bank Credit Card benefits
The card offers 9 variants to you. You can get the card for some of the sought-after benefits like:
How does a credit card work
A credit card works like a short-term loan offered by the card issuing bank. The credit card issuing company offers the limit based on your CIBIL score, your repayment history, and your employment status, income stability among other factors. They also set a maximum spending limit on your card. Once you have the card, you can use the limit for shopping products, paying utility bills, and buying groceries across all online and offline stores. Certain categories of purchases help you earn welcome bonus, rewards points, discounts, cashback, and many such perks.
Like all loan products, the credit card attracts an APR (Annual Percentage Rate). This means if you do not repay the borrowed amount in full every month within your billing cycle, you will have to pay interest as well. The interest rate varies from one issuer to another.
At the end of every month, you will receive a credit card statement that captures all your transactions done within the month. Now, you can choose to pay the due amount either in full or just the minimum amount mandated.
In conclusion, credit cards can be a great tool to manage finances, avail funds and earn high rewards points when used responsibly. You must not overuse your credit card and always pay the dues on time, helping you build your CIBIL Score.
Important credit card terms
When contemplating applying for a credit card, you might encounter various unfamiliar terms that hold the key to selecting the optimal card for your lifestyle. Here are some prevalent terms demystified:
Interest rate: This is the fee imposed by banks on the credit they extend. Rates fluctuate based on the card and the applicant's credit score. If you maintain a balance, interest applies.
Annual percentage rate (APR): Essentially the interest rate, APR represents the overall financing cost. For credit card financing, APR closely mirrors the interest rate, spanning from 12% to over 24%.

Credit limit: It designates your spending cap. Those with limited credit history might have modest initial limits, while experienced users could enjoy higher limits.

Credit score: This rating gauges your creditworthiness, aiding banks and issuers. Falling between 300 and 850, your score depends on multiple factors.

Credit card balance: It encompasses what you've spent and owe to the card company at a billing cycle's end.
Cash advance: This involves using your card for cash withdrawal. Cash advances incur steep fees, lack a grace period, and should be reserved for emergencies.
Understand the components of your credit card
Every credit card has the following details:
Brand logo
The Issuing Bank Name is displayed on the credit card with its logo.


Card variant
Every bank issues different types of credit cards. For instance, the card offered by the bank could be Platinum, Neo, League, etc.


Card network
The card's network logo is also displayed on the card, like VISA, MasterCard, RuPay, etc.


EMV chip
This small chip found on the card authenticates the data on the card. It generates a unique code for every transaction done using the card. This chip keeps the card secure, and fraudsters cannot counterfeit it easily.


Name and number of the cardholder
The cardholder's name is printed on the front of the card, as registered with the bank. The card also comes with a unique 16-digit number.


Card validity
It is the period till which the card can be used. The month and year are mentioned on the card. The card cannot be used post the date mentioned. This data helps cardholders renew their cards on time.


NFC (Near Field Communication) symbol
The symbol resembles that of a WiFi symbol, but it is horizontal. It indicates whether or not the card can be used for "Tap to Pay".


Magnetic strip
The credit card has a magnetic strip that has all the data regarding the account. This can be read when the card is swiped at the time of purchase.


CVV code (Card Verification Value)
This is mostly a 3-digit number that can be found on the back of the card. A few cards could also have a 4-digit number mentioned on the front. It is an additional layer of security to protect the cardholder from thefts and fraud while transacting online.


Signature area
This is the space provided for the cardholder to sign their credit card.


Helpline/ customer care contact
Credit cards also share a helpline or customer care number to contact them when in need. You can find these details on the back of the card.
Frequenty asked questions
What is the difference between a credit card and a debit card?
The basic difference between a credit card and a debit card is that you use a debit card to withdraw cash from your current or savings account. There is no credit taken in this case, hence you do not have to repay the cash withdrawn. However, a credit card involves a credit, given by the card issuer to the cardholder. You would have to repay the borrowed amount within the due date.
What are the different types of credit cards offered by Bajaj Finserv?
Bajaj Finserv has partnered with RBL Bank and DBS Bank to offer credit cards with industry-first features. Credit cards are defined on the types of benefits offered. Some of the most prominent credit cards offered by Bajaj Finserv are:
Rewards credit card
Cashback credit card
Fuel credit card
Travel credit card
Shopping credit card
What is a credit limit and how can I get a higher credit limit?
A credit card limit is the maximum amount that you can spend on your card. The credit limit is defined by your card provider. You can influence your card provider to offer you a higher limit by maintaining a good repayment history. It also depends on factors like your income profile and CIBIL Score.
Should I choose cashback credit cards or rewards credit cards?
You can choose either depending on your needs and the benefits offered by the card.
How to earn rewards on credit cards? How to redeem them?
The number of rewards earned on a credit card varies for each variant. Most cards offer rewards on all your spends. Additionally, some credit cards also offer welcome rewards, milestone rewards and accelerated rewards.
Does non-payment of dues attract an interest or late payment charge?
Yes, the card provider will levy a penalty for non-payment.
What is a credit card in simple words?
A credit card is a physical payment card that allows you to get credit from a financial institution. You can use the pre-approved limit to make purchases and repay the borrowed amount with an interest each month within your billing cycle.
What exactly does a credit card do?
Credit cards let you buy now and pay later. You will have to pay back what you spent without any interest by the end of the monthly billing cycle or including interest if you want to break it into EMIs. They also offer rewards points, partner offers, and more, and help build your credit score.
What is the simple definition of a credit card?
A credit card is a plastic payment card that allows the user to make purchases on credit or borrow money from a financial institution. The user is required to pay back the borrowed amount, plus interest and fees. Credit cards provide a convenient method of payment and can also offer rewards points, and complementary benefits like airport lounge access, cash back, and more. You can check the range of Bajaj Finserv co-branded credit cards to enjoy these benefits.
How long are credit cards usually valid for?
Credit cards are typically valid for around 2 to 5 years. They have an expiration date printed on the card, and a new card is usually issued by the issuer before the current one expires.
What should you buy with a credit card?
Credit cards are ideal for various purchases, especially those that offer rewards, cashback, or consumer protection. Examples include everyday expenses, travel bookings, online shopping, and larger purchases that you can pay off within the billing cycle to avoid interest charges.