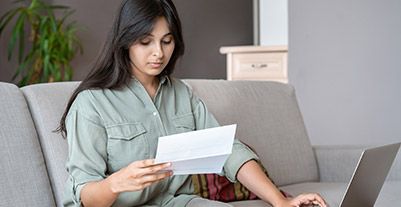 List of documents required for home loan
Get a Home Loan from Bajaj Finserv by providing simple documents. Here are the common home loan documents required:
Property documents
Sales deed, stamped agreement of sale, or allotment letter
NOC from the housing society or builder
Possession certificate and land tax receipt form the land/ land revenue/ revenue department
Detailed estimation of the construction cost
Bank account statement or payment receipt detailing payment made to the seller or builder
Occupancy certificate (for constructed apartments)
Identity proof (any one)

Aadhaar
PAN
Voter ID
Passport
Driving License
Address proof (any one)
Any of the above identity proof document with the permanent address
Electricity bill
Telephone bill
Post-paid mobile bill
Water tax
Property tax receipt
Passport sized photograph
Checklist of documents to be provided by self-employed applicants?
Find below, the list of documents self-employed applicants must produce for their application.
Proof of business existence
PAN
GST registration certificate
Trade license
Partnership deed
Articles of Association/ Memorandum of Association
Import Export Code
SEBI registration certificate
ROC registration certificate
Financial statements (Audited by a CA)
Profit & Loss Account Statement

Balance sheet
Bank account statement

Last 6 months
Additional Read: Check eligibility for home loan
Avail a Bajaj Finserv Home Loan on simple eligibility terms and by producing minimal documentation. It might interest you to know that if your property is under construction, then you can even get a home loan without property registration documents. While getting a home loan sanctioned with zero documents is not possible, one can get time up to disbursal to furbish all the required documents.
For quick finance options, you can apply for a home loan online. When doing so, write down a home loan document list and keep your KYC, employee ID, and financial documents (salary slips, bank statements) on hand. Once your home loan application is processed and documents verified you will receive a home loan sanction letter. With the Online Home Loan facility you can get a digital sanction letter in just 10 minutes*. Once you accept this offer letter, the focus shifts to the property and you will have to produce property papers to enter into the home loan agreement and obtain a quick disbursal of funds.
Document Required for Home Loan: FAQs
Can I get a Home Loan without property documents?
If the property is under construction, the home loan can be obtained without the property registration documents. However, the property needs to be registered after possession and a completion certificate must be obtained. In the case of a property that is under construction, a borrower can avail of a home loan without property registration documents.
How do I get a Home Loan with no documents?
If the borrower has a pre-existing relationship with the lender from which they are availing of the home loan, they can get the home loan sanctioned without any documentation. You can even apply for an online home loan and get a digital sanction letter without any documentation. Of course, all documents are required at the time of verification/ disbursal.
What are the basic requirements for Home Loan?
Home Loan applicants need to furnish personal documents, such as Pan Card and Aadhar Card, among others; income-related documents, such as bank account statements; employment/ business-related documents, such as salary slips or profit and loss statements; and property-related documents.
Home Loan Documents List

Proof of Identity: Passport/ Voter ID/ Driving License/ PAN
Proof of Address: Telephone Bill/ Electricity Bill/ Passport/ Bank Statement/ Passbook
Property Documents: A copy of original sale deed, NOC from society, allotment-possession letter, etc.
Proof of Income Income Tax Return (ITR), salary slips, certificate of practice (for professionals), audited financial sheet (for self-employed applicants and professionals), qualification certificate (for professionals), P&L statement (for self-employed applicants), etc.
What is the Home Loan documentation process?
To complete your home loan application, you will need to submit all necessary documents for verification. You can do this by either handing over hard copies or submitting soft copies online. Bajaj Finserv also offers a doorstep document pickup service for maximum convenience.