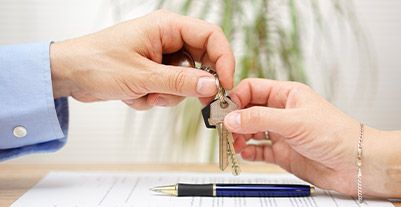 What is the step-by-step procedure to get a home loan?
There are several steps involved in the sanctioning of a home loan. You start by applying and submitting documents, await verification, get the sanction letter, sign it and pay the secure fees, await a technical check of your property and then sign the final loan agreement before receiving the loan amount in your bank account.
Step by step detailed process
While the Home Loan process involved many steps, they are taken quickly, and you can get your loan just 3 days from Bajaj Finserv. Before all, you can also check the interest payable and the EMIs amount using our home loan calculator to get an estimation.

Here are the steps in more detail.
Step 1. Application
The first step is filling the application with details like your name, phone number, pin code, type of employment, and more. Our representative will get in touch with you to move forward with the application procedure.
Step 2. Document collection
Our representative will come at your doorstep to collect the required documents*, which include:
KYC documents – Passport, Driving License, Aadhaar Card, Voter ID Card (any one)
Your employee ID card
Salary slips of the last 2 months
Bank account statements for the last 3 months (salaried) / 6 months (self-employed)
Document of proof of business of minimum 5 years (for businessmen/ self-employed individuals)
Documents of the property to be mortgaged
*Please note that the list of documents mentioned is indicative. During loan processing, additional documents may be needed.
Step 3. Document processing and verification
The lender will process and authenticate your documents. They may contact your workplace or relevant organisation to confirm your employment or occupation.
In this step, they will also conduct a credit enquiry to check your CIBIL score and credit report. Your loan application will move to the next step only if all the documents are in order, and your CIBIL score and credit report are satisfactory.
Step 4. Sanction letter
You will receive a home loan sanction letter after successful completion of all the above steps. A sanction letter usually contains the following details:
Loan amount
Rate of interest
Type of interest rate, fixed or variable
Repayment tenor
A sanction letter may also contain other terms, conditions, and policies of your home loan. You have to sign a copy of this letter and send it to the lender to accept their offer.
Step 5. Secure fee payment
You have to pay a one-time secure fee after you sign the sanction letter. The lender may ask you to pay this fee at an earlier time as well.
Step 6. Legal and technical check
The lender will perform a legal and technical check before disbursing your loan. They will send representatives to the property site for inspection.
Step 7. Loan agreement and disbursal
You will receive the final agreement after the lender has performed all their checks. Finally, your home loan amount will be disburse as per the terms.
Additional: Check your eligibility before applying home loan

Frequently asked questions
What is the processing time for home loans?
The processing time for home loans can vary based on a multitude of factors and the specific procedures of the lending institution. The home loan process involves several steps, from application submission to loan approval and disbursal. Typically, the processing time for home loans can range from a few weeks to a couple of months.
What is the home loan part disbursement process?
Home loan part disbursement process refers to the method by which a home loan is released to the borrower in stages, rather than as a lump sum. This is especially common in cases where the loan is being utilised for the purchase of an under-construction property or a property that requires renovation. The goal of part disbursement is to ensure that the funds are released in line with the construction or renovation progress, minimising the risk for both the borrower and the lender.
What is full disbursement?
As the name suggests, full disbursement refers to when the lender releases the entire home loan amount, as opposed to releasing it in parts. When you purchase a ready to possess property from a developer or a seller, the lender releases the entire sum. On the other hand, if you purchase an under-construction property, the lender will release the sum in parts, in line with the construction progress.
What additional documents are required during the home loan procedure?
To avail of a home loan, you typically need to submit KYC documents, income and financial documents, and property-related documents. Additional documents may be requested when the existing documents do not provide enough clarity and further details and evidence are needed. For instance, while a title deed and tax receipts are key property related documents, lenders often also request the project plan.