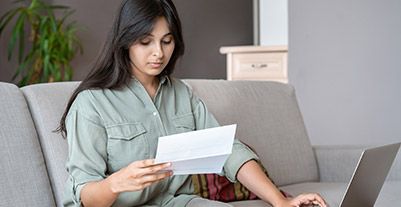 How to apply for a quick personal loan without documents
Since a personal loan is an unsecured form of credit, loan approval depends on several factors, mainly your credit history, creditworthiness, and CIBIL Score. Once this is in place, lenders like Bajaj Finserv offer a personal loan easily and require you to submit only a handful of documents, such as your identity and address proof.
Your credibility and borrowing behaviour has a significant bearing on whether or not you can borrow a loan. Follow these steps for personal loan approval without documents.
Repay existing dues on time
Lenders look for your creditworthiness, which is a product of faultless repayment history. If you default on payments, it will show the lender that you are irresponsible with credit. So pay credit card bills and loan EMIs on time to avoid defaults or delayed payments on a personal loan. You can also use an EMI calculator to plan your loan repayment journey wisely.

High CIBIL Score
A score of 685 or higher is essential for unsecured loan approval, so ensure that your credit behaviour builds your score and does not diminish it.


Debt-to-income ratio
A debt-to-income ratio of 50% or less is required for loan approval without documents. The lower the ratio, the greater your disposable income and repayment abilities are. This will also establish you as a low-risk borrower.


Relationship with lender
In many cases, a long-standing relationship with the lender can help you get a pre-approved personal loan without any documents in India, along with better terms and a competitive personal loan interest rate.

Now, that you know the Bajaj Finserv Personal Loan application process, you can apply for it in minutes and get the loan amount of up to Rs. 40 lakh. Optionally, you can also check your pre-approved personal loan offer, which required zero to no documents.
Read more: How to check credit score