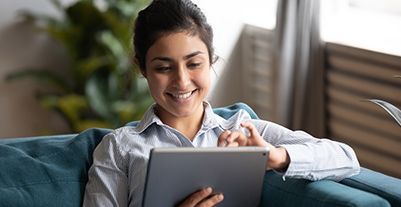 How to get a personal loan for students in India?
Education loans are popular credit options when it comes to financing higher education. However, the margin of self-funding that most of these loans require can be a significant drawback for borrowers.
Lenders may require you to fund a large part of the tuition fees for domestic and overseas education if the loan amount exceeds Rs. 4 lakh. Moreover, you may need to attach collateral for loans above a certain amount. 

Lastly, you may be restricted to using the funds only for tuition and may get the loan for certain educational institutes, courses, and locations.

A personal loan may be a better alternative as it doesn't require a margin or collateral and offers freedom of end-use so that you can use the money towards tuition, travel, accommodation, course materials, and more. Bajaj Finserv offers personal loans for higher education of up to Rs. 40 lakh within 24 hours* of approval, with tenors extending to 96 months.
Requirements to get a personal loan for students
To get a personal loan for education online, ensure you do the following.

1. Have a good credit score
A CIBIL score of 685 or higher is essential to get quick approval on a personal loan. If you don't have a good score, apply with a co-applicant or guarantor.
2. Meet the eligibility terms

To qualify for the loan with ease, ensure you satisfy all the lender's eligibility criteria. This includes the requirement for a good CIBIL score, minimum monthly income based on the city you reside in, age criteria, etc.
3. Get the documents in order
Make sure you submit all the documents required for a personal loan, such as KYC documents, employee ID, salary slips for the last two months, and bank account statements for the last three months. Our pre-approved or existing customers may not have to provide all of the documents mentioned above.
How to apply for an instant personal loan for higher education?
Here is a detailed guide on applying for our personal loan for higher education.
Click on Apply Online to open our simple online form
Share your basic information
Enter your 10-digit mobile number and OTP
Select the amount you wish to borrow
Share a few more details about your income and employment
Upload the required documents and submit your application
Our representative will call and guide you on the following steps to get the loan amount in your bank.

Points to remember before applying for a personal loan
1. Estimate the cost of education
This helps you apply for a sufficient loan amount.
2. Select the right tenor
Use a Personal Loan EMI Calculator to pick the suitable repayment duration to ensure your EMIs are affordable.
3. Check the cost of borrowing
Take a look at the rate of interest on personal loans for students and check all the related fees and charges before you apply, to plan repayment better.
*Conditions apply