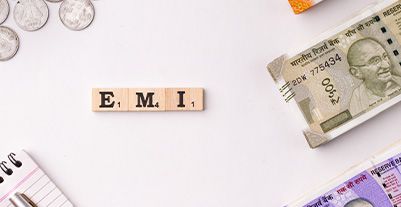 How to make an online payment for Bajaj Finserv EMI overdue?
You can pay your overdue Bajaj Finserv payment online through two provisions.
You can log on to the Bajaj Finserv dedicated customer portal with your details and make the payment online.


Alternately, you can use the My Account App to make the online EMI payment. All you have to do is download the app and follow these steps to make a payment through the app
Log in to the My Account App using your registered mobile number and details
Click 'Account Information' and then click on 'Online Payment'
Choose the 'EMI and Overdue Payment' option
Enter your details into the payment gateway and authorise payment
Besides the online payment options, you can also pay your EMIs through cheque or via ECS.
Pay Bajaj EMI through cheques
When it comes to cheque repayment, you can write cheques every month and submit the same to your lender before the due date for EMI repayment. You can also withdraw cash from your salary account and deposit the same in the account of the lender. However, the benefit here is that borrowers are not required to pay added charges for EMI payments with their monthly cheques. You may also provide post-dated cheques for a few months to the lender.
Pay home loan EMI through Electronic Clearance Service (ECS)
The Electronic Clearance Service (ECS) is a more convenient facility where you must fill out a form and get the same submitted to your lender. As per the due date and EMI amount, there will be a debit of this sum from your account, which is then transferred to the home loan account of the lender. A small charge will be imposed on users for this facility. Paying your EMI on time is an important factor in determining your creditworthiness. Check your CIBIL Score now.
You can also check out other methods of EMI payment. With the online customer portal, you can pay your EMI online as well, and you can download the My Account App for EMI payment too. Also, remember to use the home loan EMI calculator to plan your EMIs.