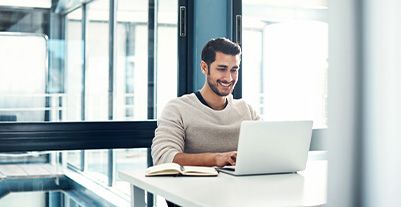 Advantages of getting a personal loan from NBFC
Non-banking financial companies (NBFCs) have personalised offerings, a broader reach, robust risk management frameworks, various co-lending agreements, and a dynamic digital presence, which has boosted the adoption of their credit facilities in India. Read on to know why borrowers prefer an NBFC loan against a bank loan.
Why is an NBFC personal loan a better option?
1. Easy eligibility parameters
You do not have to comply with lengthy or complicated eligibility criteria for personal loans with NBFCs. The primary parameter that these lenders consider is your credit score. A minimum CIBIL score of 750 can get you instant approval. Those with low credit scores can also apply by indicating substantial income and a sound career portfolio.
In contrast, the eligibility terms set by banks remain quite stringent, especially for self-employed applicants.
2. Minimal to nil paperwork
Existing or pre-approved customers do not need to submit any documents when applying for a personal loan with an NBFC. For new customers, the documents required are limited to OVDs for KYC, bank account statements, and the latest salary slips.
In the case of banks, both existing and new customers may have to submit lengthy paperwork. These lenders usually require additional documents from self-employed applicants too.
3. Quick approval
Pre-approved customers can receive loan approval within a few minutes of applying with the best NBFC for a personal loan. In other cases too, you can get an unsecured loan approval in just 5 minutes* from reputed NBFCs.
This is not usually the case with banks, as they have more internal processes to comply with before approving an application.
4. Swift processing
NBFCs can process an application within one working day after approval. Borrowers can thus receive the money in their account in under 24 hours* with select non-banking financial companies. This makes NBFC loans the ideal funding option for urgent needs such as medical emergencies.
The disbursal time for a personal loan from banks may extend anywhere between a few days and a few weeks.
5. Completely online application process
We offer a 100% digital and paperless application process. You only have to provide basic details such as name, phone number, and city to initiate the procedure.
On the other hand, an online loan application process is still not available from several banks. This makes it more difficult as borrowers must visit a branch and apply in person.
6. Exceptional customer service
Last but not least, NBFCs have superior customer service that can be relied on. These lending companies usually assign a customer relationship manager who is available to assist a borrower before and after applying or sanctioning a personal loan.
On the other hand, such services with banks, especially those in the public sector, remain less customer-centric.

For all these reasons, opting for an NBFC loan is often seen as a better option. You can also get an instant loan of higher quantum from an NBFC (based on eligibility) compared to a bank. Apply for a personal loan with Bajaj Finserv to get attractive features and benefits against nominal interest rates.
*Terms and Conditions apply