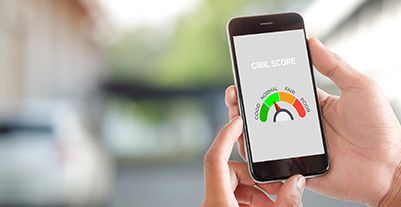 What is a CIBIL/ Credit score?
Your credit score is a 3-digit number that ranges from 300 to 900 and summarises your creditworthiness. Every individual who has once availed credit (credit card or loan) will have a credit score. In India, the credit score provided by CIBIL is accepted by most financial institutions and it is also known as the CIBIL score. Your CIBIL score is based off information found in your CIBIL Report or Credit Information Report.
While a high CIBIL score indicates a good history with credit, a low score is indicative of defaults or insufficient exposure to credit.

What is a good CIBIL score for a home loan?
A good CIBIL score for home loan is anything above 750.

How is my CIBIL score used for home loans?
Lenders use your CIBIL score to determine whether you are eligible to apply for a home loan. They perform a credit inquiry to check the same. Lenders also check your credit report during such inquiries. Your credit report contains all the details that influence your CIBIL score.

How to improve your CIBIL score for a housing loan?
Pay credit card bills on time and in full
Utilise 30% or less of your credit card limit
Fix errors in your CIBIL report
Avoid making multiple home loan applications in a short window as each credit inquiry lowers your CIBIL score by a few points
What is the minimum CIBIL score required for home loan sanction?
The minimum CIBIL score for home loan is 750. However, some lenders may offer you a loan against a lower score as a home loan is secured.

Also read: How much home loan can get on salary?