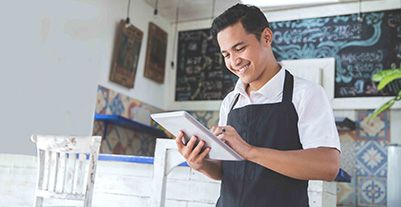 What is an SME loan?
Small and medium enterprises are businesses defined by the Government of India based on their investments in plants, machinery, and equipment. The following table highlights the differences between the two types of businesses:
| | | |
| --- | --- | --- |
| Investment/ Turnover | Small enterprise | Medium enterprise |
| Range of investment | Between Rs. 1 crore and Rs. 10 crore | Between Rs. 10 crore and Rs. 20 crore |
| Range of turnover | Between Rs. 5 crore and Rs. 50 crore | Between Rs. 50 crore and Rs. 100 crore |
Considering the nature of these businesses, there are many specialised financial provisions available. For instance, Loans for Small Medium Enterprises (SME) are business loans extended only to these enterprises. These loans are tailor-made to suit the needs and requirements of SMEs and usually don't require any collateral.
Whether you're looking to invest in factory infrastructure or maintain a healthy cash flow, an SME Loan from Bajaj Finserv is a smart financing option for your business.