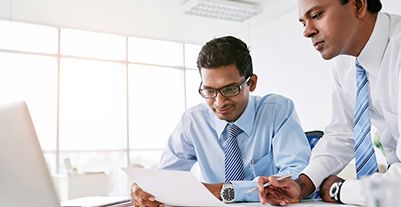 Full form of SME
SME stands for small and medium-sized enterprises. These are enterprises that have less than a specific level of investment and turnover.
SMEs include both manufacturing and service businesses. The government categorises them based on a combination of annual turnover and equipment investment.
| | | |
| --- | --- | --- |
| Classification of companies | Investment threshold | Turnover threshold |
| Small enterprise | Between Rs. 1 crore and Rs. 10 crore | Between Rs. 5 crore and Rs. 50 crore |
| Medium enterprise | Not more than Rs. 50 crore | Not more than Rs. 250 crore |
Any SME owner seeking to raise capital can avail of an SME loan from Bajaj Finance. Get funding of up to Rs. 50 lakh with minimal documentation.
Types of SMEs
Small and medium enterprises (SMEs) are critical to the growth of the economy, providing significant employment and contributing substantially to the GDP. Here are some of the common types of SMEs:

Manufacturing SMEs: These businesses engage in the production of goods, including tangible products like clothing, machinery, and electronics.

Service SMEs: These businesses provide intangible services like consulting, marketing, accounting, and similar services.

Trading SMEs: These businesses are involved in importing, exporting, or domestic trading of various products or services such as consumer goods, machinery, and equipment.

Retail SMEs: These businesses operate retail stores or online marketplaces that sell consumer goods directly to consumers.

Food and beverage SMEs: These businesses operate in the food and beverage industry, ranging from restaurants and catering services to food processing units.
What is the meaning of SME?
SME stands for small and medium enterprises, which are businesses that have fewer employees and a lower annual turnover than larger enterprises.
What is difference between MSME and SME?
MSME stands for micro, small, and medium enterprises, while SME stands for small and medium enterprises. MSME is a specific term used by the Indian government to define and classify businesses based on their investment in plant and machinery or equipment and their turnover. SME is a general term that can have different definitions in different countries, depending on various criteria such as number of employees, investment, turnover, or balance sheet total. Therefore, MSME is the Indian version of SME, and the criteria for classification may vary from country to country.
According to the latest MSME definition in India, which was revised in 2020, the following are the criteria for classifying MSMEs:
| | | |
| --- | --- | --- |
| Category | Investment in plants and machinery or equipment | Turnover |
| Micro | Up to Rs. 1 crore | Up to Rs. 5 crore |
| Small | Up to Rs. 10 crore | Up to Rs. 50 crore |
| Medium | Up to Rs. 50 crore | Up to Rs. 250 crore |
These criteria apply to both the manufacturing and service sectors. The investment and turnover limits are to be seen together and not separately.

What are the benefits of SMEs?
SMEs are small and medium-sized enterprises that have a significant role in the economic development of a country. Some of the benefits of SMEs are:
They create jobs and income for many people, especially in the service sector, which is growing fast in many countries.
They reduce income disparities and promote social inclusion by providing opportunities for entrepreneurship and innovation to people from different backgrounds and regions.
They contribute to the diversification and competitiveness of the economy by producing a variety of goods and services, and by adapting quickly to the changing market demands.
They foster technological development and innovation by developing and applying new solutions to the problems faced by their customers and society.
They enhance the linkages between different sectors of the economy by supplying inputs to large enterprises, and by accessing new markets and customers through their networks.
These are some of the benefits of SMEs that make them important for the sustainable growth of a country.