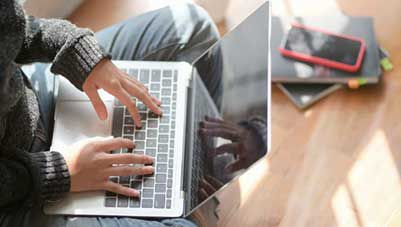 What is the Process of Gold Loan Online Payment?
Top gold loan providers have enabled financing access through pledging of gold by introducing online processes. Interested individuals can thus easily apply for a gold loan from the comfort of their homes against minimal documentation. You can also complete repayment of the advance by opting for different gold loan online payment methods of EMIs.
It is prudent to know the repayment options since this will add to the convenience of choosing the right option as per your financial standing. Check the following steps to complete for gold loan online payment
Steps to Pay Gold Loan EMIs Online
Complete quick pay of gold loan through the following few steps online.
Step 1: Go to your lending institution's official website and navigate to the customer portal.
Step 2: Next, log in to your gold loan account with an available username and password.
Step 3: Proceed to choose an online gold loan process for repayment.
Step 4: From the available digital payment options, choose the one best suiting your requirements. Commonly, it is possible to complete gold loan payment through credit card, debit card, net banking, as well as eligible digital wallets.
Step 5: Initiate payment of your gold loan EMI by entering the amount.
Step 6: Authorise payment verification to complete the repayment process.
When choosing the repayment mode, it is also crucial to know the repayment methods available. Below given are some common ones to choose from.
Repayment in regular EMIs: It is the most common repayment option that borrowers choose for gold loan online payment or offline payment. Each EMI payable comprises the principal and interest component payable towards the total loan liability. Although the EMIs remain constant throughout the loan tenor, the amount of interest and principal included in each EMI vary based on the amortization schedule.
Interest-only EMIs: The repayment option allows borrowers to pay only the interest accrued as EMIs while the principal repayment is postponed until the end of the tenor. Such principal repayment is made in lump sum by the tenor's end.
Partial principal and interest payments: Under this repayment option, borrowers can make partial repayment of gold loan principal as well as interest right from the tenor's beginning. Early principal repayment under this method can help save on additional interest accrual.
Bullet payments: This repayment method allows borrowers to postpone the total repayment liability, including principal and interest, until the tenor's end, allowing such repayment in a lump sum.
List of Documents Required for Gold Loan
Individuals need to submit the following documents for gold loan application online and offline.
Proof of identity: Any photo identity document issued by a recognised body qualifies as identity proof for KYC process completion. It can include documents like PAN card, Aadhaar card, Voter ID card, Passport, etc.
Proof of address: Any address-carrying document issued by a recognised body or individual qualifies as proof of address. Eligible documents include an Aadhaar card, Voter ID card, passport, utility bills, ration card, etc.
Choose a repayment method that best matches your financial standing and complete gold loan online payment of EMIs through one of the available payment options. Confirm to make timely repayment of your gold loan to have a positive impact on your credit score and history. This increases your creditworthiness. Check CIBIL Score now.