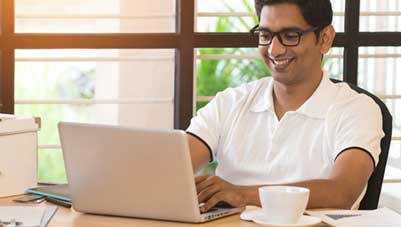 Know About Bajaj Finserv Gold Loan Scheme
Financial institutions offer funds against gold under various gold loan schemes to cater to the varying needs of borrowers. These loans come with different features and facilities to suit distinct financing requirements and repayment conveniences. The best scheme for a gold loan brings out the right balance of factors such as per gram rate, tenor availability, and the maximum loan cap.
Borrowers can choose from a comprehensive suite of repayment options to go well with their financial standings and meet the total repayment liability in time. Check out how you can avail of a gold loan and which funding option can be called the best gold loan scheme in India for a wider understanding of the financing option.
What is the Scheme of Taking a Gold Loan?

Taking a gold loan is simple and convenient. You can complete the application of your selected gold loan scheme in a few simple steps.
Visit your selected lender's official website and navigate the gold loan page.
Next, check if you meet the gold loan eligibility requirements and arrange the necessary documents for submission.
Proceed to fill up the application form for your selected scheme with necessary information related to your details as well as gold ownership. Make sure to keep all details accurate for easy loan application processing.
Complete application form submission and submit all required details.
After this, the lender proceeds to evaluate the gold pledged and decides on a suitable loan amount and other loan terms accordingly. Once decided, you receive quick approval for the loan and disbursal of the advance soon after.
Before applying for a gold loan, make sure to check the maximum loan availability with the help of a gold loan calculator. The financial tool also allows you to assess the EMIs payable based on the loan amount available.
Best Gold Loan Scheme in India

The best gold loan schemes available in India today come with the following top features and benefits attached to them.
Up to Rs. 2 crore as loan amount: Based on the gold you own, availing financing of up to Rs. 2 crore as a gold loan is possible.
A high per gram rate: The best lending institutions extend high per gram rates on gold, allowing borrowers to maximise their loan accessibility. RBI caps this rate at 75%, with possible variations under specific circumstances.
Complementary coverage for pledged gold: Top financial institutions like Bajaj Finserv also provides insurance coverage for the gold to eliminate loss due to theft or misplacement.
A suite of repayment options: Borrowers can choose from a comprehensive suite of options for convenient and affordable repayment of gold loans.
Industry-best gold storage facilities: When handing over your pledged gold, be assured of the item's storage at top-of-the-class vaults with all-day surveillance.
Prepayment Options: Choose to part-prepay your loan amount or foreclose the account at any time before the tenor's end at nil charges.
Partial gold release through equivalent repayment: Bajaj Finserv also provides the option for part-release of pledged gold if needed against an equivalent repayment that a borrower must make.
Attractive rates of interest:

 Top schemes of gold loans also offer the 

best gold loan interest rates to make financing affordable for all.
Compare different offers from available lenders to choose your gold loan scheme wisely. Use a gold loan EMI calculator to estimate repayment liability and apply for a suitable loan accordingly.