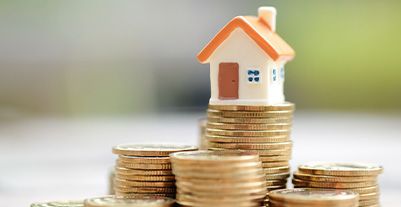 What is a commercial property loan?
A commercial property loan is a credit option that a lender offers against the mortgage of non-residential or commercial property. A commercial property is one that you use to run a business or any other commercial undertaking. To purchase commercial real estate, you can take a commercial property loan. Alternatively, you can mortgage commercial property you already own to avail a loan against property for big-budget expenses.
How does a loan on commercial property work?
A commercial property loan is a type of mortgage loan that is secured through the mortgage of commercial property instead of residential property. Depending on the market value of your commercial real estate you get funding for all types of expenses, be it higher education, business expansion, a family wedding, or debt consolidation.
Bajaj Finserv provides commercial property loan of Rs. 10.50 Crore** or even higher basis your eligibility to borrowers at affordable mortgage rates of interest and for flexible repayment tenors of up to 15 years*. However, you can opt to prepay at any time before the tenor ends.
You can get a loan on commercial property by meeting simple mortgage eligibility criteria and keeping the documents required ready.
Commercial Property Loan Interest Rate: Self-employed

| | |
| --- | --- |
| Loan Type | Interest Rate |
| Commercial Property Loan | 9% to 14% (Floating rate of Interest) |
What is the working of commercial property loan?
Commercial property loan are credit options lenders offer against mortgage of a commercial property. It is a type of credit that gives you some of the best features and benefits of the lending market. Understand the concept of a loan on commercial property in details.
Additional Read: How to apply for loan against property
Documents required for a commercial property loan
Besides fulfilling the eligibility criteria for a commercial property loan, all applicants/ co-applicants need to submit the following documents along with the duly filled and signed application form
1. Proof of identity and residence: Individuals need to submit their KYC documents, such as PAN Card, Voter ID, driver's license, passport, or any other government-issued document.
2. Proof of income: Applicants can submit the below documents as proof of income.
CA-attested ITRs along with the computation of income of the business as well as themselves for the previous three assessment years
Savings account and current account statements
CA-attested balance sheets and profit and loss statements for the past three years
3. Property-related documents: Property-related documents required for a commercial property loan include a copy of the allotment letter/ buyer agreement as well as title deeds, which include the previous chain of property documents in resale cases.
4. Other documents: Here's a list of other commercial property loan documents that individuals need to submit to complete the application procedure.
Business profile
Memorandum of Association and Articles of Association in case of a company
List of Chartered Accountants and Company Secretariats
Partnership deed (if the business entity is a partnership firm)
Details in relation to pre-existing loans of the applicants as well as the business entity, including instalments, outstanding amount, purpose, etc.
Proof of own contribution
Passport size photographs of all applicants/ co-applicants
Cheques drawn in favour of the loan provider to pay the processing fee
Note that an application can get cancelled if an individual fails to submit any of these documents. Hence, before applying for financial assistance, it is essential to ensure that all the documents mentioned above are available.
Commercial property loan eligibility
Only self-employed individuals can apply for this type of financial assistance. The applicants are further classified into two types, namely:
1. Self-employed Professional (SEP): The below professionals come under this category
Doctors
Chartered Accountants
Consultants
Architects
Lawyers
Company Secretaries, etc.
2. Self-employed Non-Professional (SENP): Below are a few examples of SENPs
Traders
Commission agents
Contractors, etc.
According to the commercial property loan eligibility criteria, SEPs and SENPs need to fulfil the following requirements:
Age: The age of an individual applying for this type of financial assistance must be between 25 years and 70 years. The application stands to be cancelled if this eligibility criteria is not fulfilled.
Stable income: It's imperative for self-employed individuals to maintain a stable source of income. If the income proof documents fail to represent the same, the financial institution may cancel the application
Indian resident: Applicants must be residents of India to be eligible for a commercial property loan.
Before initiating the application procedure, it is essential for applicants/ co-applicants to make sure that they meet the requirements. If they fail to do so, their application will get cancelled.
Note: Before applying for a commercial property loan, you must calculate the area you want that you want to mortgage. An area converter tool can help you to calculate the area in the form of units your lenders are asking for.
Frequently asked questions
What is commercial property loan?
Commercial property loan offered against mortgage. If you already have a commercial property, you can easily mortgage it abs avail high value loan at affordable interest rates.
What is credit score required for commercial property loan?
In order to qualify for commercial property loan, you should have a credit score of 660.
Can you get loan on commercial property?
Yes, you can get a loan against commercial property. To apply for a commercial loan, check eligibility criteria and documents required and then apply for a loan against property.
How can you get a loan for office?
You can get a loan for office by applying for a Loan Against Property. A Loan Against Property can be treated as a Commercial Property Loan and can be used for any office expenses including renovations. You need to fulfil the criteria as mentioned on the Commercial Property Loan page.