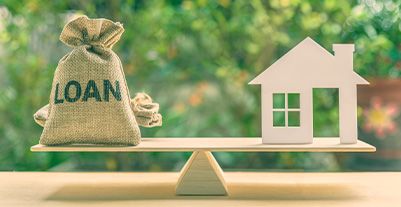 Loan against property prepayment
Along with a high-value loan amount of up to Rs. 5 Crore*, Bajaj Finserv also offers flexible repayment options for a mortgage loan. Once such option is making a part-prepayment on loan against property. You may part-prepay if you have additional funds in hand. This helps you lower the principal amount and reduce the total interest payable.
Conditions to prepay your loan against property penalty-free

A mortgage loan prepayment refers to the repayment of the credit in parts any time during the tenor. Use this unique feature to reduce debt at the earliest and manage your finances more efficiently.
As per the RBI guidelines, you can prepay the loan amount without any fees or charges on meeting a few conditions.
Avail the loan as an individual applicant at a floating rate of interest instead of a fixed rate.
Ensure that a corporate entity is not a co-applicant for the loan.
Bajaj Finserv provides part-prepayment and foreclosure facility at nil charges if the borrower meets the above conditions. For other borrowers, the charges for loan against property prepayment are nominal.
Also Read: Who can be the co-applicant in mortgage loan
Part-prepay with at least 1 EMI
When you have surplus funds and want to make a part-prepayment, ensure the amount is more than or equal to 1 EMI. Use our property loan EMI calculator to know the EMI amount payable.
Avail Loan Against Property from Bajaj Finserv and part-prepay at low to no prepayment charges on mortgage loan.
To get started, meet the loan against property eligibility criteria and fill the online application form. Make sure to keep the required loan against property documents handy for quick and hassle-free disbursal. Avail the fastest property loan disbursals from Bajaj Finserv within 72 hours* of approval.