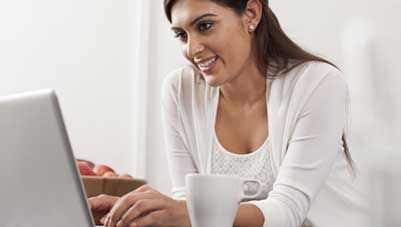 How to Get an Online Gold Loan From Bajaj Finserv?
The availability of loans against gold ornaments as collateral allows individuals to utilise the underlying value of the precious metal and raise necessary funding during emergencies. Today, you can even send a gold loan application online by following a few simple steps only.
The eligibility and documentation requirements for gold loan are minimal. Meet simple gold loan eligibility criteria and complete minimal paperwork to apply for the loan. The pledged gold can be stored safely at the nearest branch of your lender and recovered once the entire loan repayment is complete.
How to Apply for Gold Loan Online
Complete your gold loan online application in the following few steps.
Step 1: Go to the official website of your selected lending institution.
Step 2: On the website, navigate to the gold loan page.
Step 3: Locate the 'APPLY ONLINE' option and click on it to proceed.
Step 4: Next, the page will open your online application form. Fill it with required personal, financial, and occupational details.
Step 5: Provide accurate details related to the weight of gold you plan to pledge along with its purity level.
Step 6: Submit required documents to complete your gold loan application.
Once you have submitted your gold loan application online, proceed to hand over the pledged gold to your lender. Check for safety of gold storage before proceeding. Gold storage facilities with industry-best vaults and 24x7 surveillance are preferred options.
Availability of complementary gold insurance during such storage only strengthens the borrower's trust in a lending institution.
Eligibility and Documents Required
The simple eligibility criteria an individual must meet to apply for the loan on gold include –
Applicants should be either a salaried or a self-employed individual with a stable source of income. Self-employed individuals include professionals as well as non-professionals
The minimum age limit for gold loan is 21 years and maximum limit extends up to 70 years
Gold ornaments or jewellery to be pledged must meet a purity level of 22 carat.

As secured advances, gold loans do not mandatorily require borrowers to hold a minimum credit score. Neither does it affect the interest rate levied on a loan against gold. But it is ideal to hold a credit score of 750 or more when applying for a gold loan as it can help you secure favourable terms of borrowing.
Use our Gold Loan Calculator to assess your maximum eligibility for the advance. It can help you comprehend the per gram rate for your pledged gold as per its weight and purity. It is also advisable to use a gold loan EMI calculator before sending your gold loan application as it helps in choosing a suitable loan amount that will keep the EMIs affordable.
The documents needed to apply for a gold loan include the following:
Identity proof like PAN card, Aadhaar card, Voter ID card, Passport, Driving License, or any other photo identity proof issued by an authorised body
Address proof like Voter ID card, Aadhaar card, Passport, Utility Bills, ration card, or a letter issued by an authorised body or individual attesting to the applicant's address
Paperwork is not limited to these requirements strictly and may need you to submit additional documents if needed.