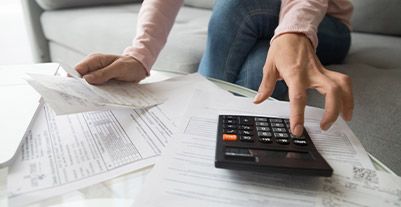 Carpet area vs built-up area
Carpet area, built-up area and super built-up area are commonly used terms that describe property specifications in real estate. Avail loan against property from Bajaj Finserv to fund the purchase of house property at attractive interest rates and easy eligibility criteria for loan.
What is carpet area?

It is the net usable floor space available or the area that can be covered by a carpet. It is the wall-to-wall distance of the floor and excludes the thickness of the walls in a house.
What is built-up area?
It is a total of the carpet area and wall area, denoted by the wall's thickness. It usually consists of carpet and wall area in a ratio of 70:30. Before finalising your home purchase, make sure you know what portion will comprise its built-up area.
What is super built-up area?
It is a combination of built-up area and a unit's common areas like the lift, corridor, lobby, etc. Agents often call it the 'saleable area'. So, if you find a housing unit with space of 1,200 sq. ft, for instance, check out the carpet and built-up area before finalising its purchase.
Being aware of the differences between these terms can help you understand the value of the property better and get an appropriate mortgage loan.
Get a loan against property from Bajaj Finserv to finance your purchase at attractive interest rates. Our easy-to-fulfil eligibility criteria for loan against property makes it easy for you to apply. Simply fill the online form to get quick approval and get the loan in your account within 72 hours**.

*Conditions apply