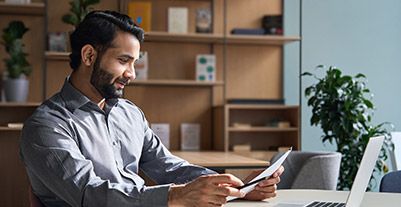 Fixed and floating loan against property interest rates
While Bajaj Finserv offers mortgage loan at both fixed and floating rates of interest, choosing between them as a borrower can be confusing. To make this easier, consider the two ways in which the interest rate is important:
It affects your repayment plan
It impacts the EMI amount
To make a wise decision that suits your finances and makes repayment easier, consider the differences between the two kinds of interest rates. 
What is a fixed rate of interest?
This interest rate is fixed for the entire loan tenor. Your EMIs are not affected by market fluctuations. Generally, fixed rates of interest are 1-2% higher than floating rates.
What is the floating rate of interest?
This interest rate varies as per changes in market rates. We charge floating mortgage loan interest rates based on Bajaj Finserv floating reference rate.
Which is better between fixed vs floating interest rate?
The choice of interest rate depends on whether you want certainty and security or choose to go with the market trends. Opt for a fixed rate of interest on a loan against property if there are chances of an increase in the lending rates. However, in the case of falling rate trends, a fixed interest rate may prove costlier.
Opting for a floating rate of interest is beneficial when the lending rates are expected to decrease. Choosing a floating rate of interest on the Bajaj Finserv Loan Against Property helps you part-prepay or foreclose the loan at nil charges. This makes repayment easier on the pocket.
Bajaj Finserv offers a loan against property at competitive rates, be it fixed or floating. Check out the mortgage loan interest rate that we offer to both self-employed and salaried individuals to make a smart decision. Once you choose your preferred rate, calculate your monthly outflow with the Loan Against Property EMI Calculator.