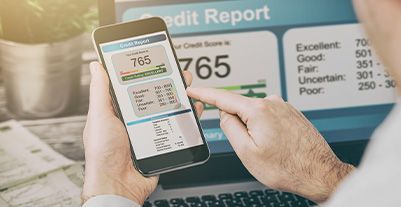 How can a CIBIL defaulter get a loan against property?
Your CIBIL score helps lenders assess your creditworthiness and how likely you are to repay on time. As for a CIBIL defaulter, it is harder for you to get approval on a loan as you have a low CIBIL score which makes you a high-risk borrower. However, you can apply for a Bajaj Finserv Mortgage Loan with a low CIBIL score.
Factors that make availing low credit loan possible
Below are the factors that can make the low credit loan possible for borrowers
High value mortgage: To avail the Bajaj Finserv Loan Against Property, you will be required to mortgage a high-value property. This may allow you to obtain a substantial loan amount even if a low loan-to-value ratio is offered due to your sub-par credit score
High and stable source of income: Typically, Bajaj Finserv has easy-to-meet mortgage eligibility criteria. But, as a CIBIL defaulter, you will need to have a high and stable source of income. This helps assure the lender of timely repayment and reduces the risk of default
Low debt-to-income ratio: Debt-to-income ratio is the ratio of all existing liabilities against your income. The lower it is, the better your capability to repay a new loan. Your chances of availing a property loan increase if you maintain a debt-to-income ratio of 30% or less
With Bajaj Finserv the mortgage interest rates and loan charges are among the lowest in the market. To enjoy the benefits of this offering, even as a CIBIL defaulter, apply online.