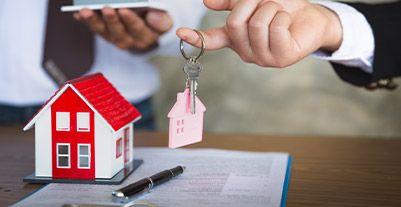 Features of mortgage loan
Bajaj Finserv provides quick approval and disbursal, ample financing, and levies competitive interest rates, making our mortgage loan one of the best in the market. Here are the features in detail:
Swift processing
Bajaj Finserv offers quick approval once you meet eligibility criteria, with money in your account within 72 hours*
Easy eligibility
Our mortgage loan eligibility criteria are minimal. Salaried applicants must be 28 – 58 years of age, while self-employed applicants can be between 25 years to 85 years of age. Additionally, borrowers must have a steady source of income, and own property in one of our specified locations
Minimal documentation
You have to share just a few, basic documents to prove your eligibility, such as KYC documents, property documents, bank account statements, income tax returns, and salary slips
Ample finance
You can borrow high sanction amounts of Rs. 10.50 Crore* or higher, basis eligibility

Competitive interest rates
Our mortgage loan rates are nominal, making borrowing a loan affordable. Moreover, a secured loan such as a mortgage loan typically has a lower interest rate than an unsecured loan
Also check: Dos and don'ts of loan against property
Convenient repayment
You can pay back the loan comfortably over a long tenor up to 15 years for salaried employees, professionals and self-employed individuals.
Apply for a mortgage loan today and finance your expenses easily.