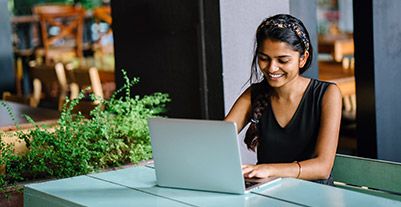 Study loan on property for Canada
Canada is an increasingly popular destination for Indian students looking to pursue higher education abroad. As a matter of fact, in 2018, the number of Indian students in Canada grew by 40%. However, studying in Canada is expensive and one of the best ways to finance such an undertaking is to avail Bajaj Finserv Education Loan Against Property.
This instrument grants access to sanctions of up to Rs. 10.50 Crore* that you can use to cover all education-related costs. Right from tuition fees to accommodation costs and flight tickets, this funding can help meet all your child's needs. To obtain this funding, you need to pledge a self-owned residential or commercial property as collateral and submit the required documentation. Moreover, considering the importance of planning loan repayment, be sure to use the education loan on property calculator to help forecast your instalments and know the cost of the loan.
Steps to apply for an education loan against property for Canada
To apply for a study loan against property in India, follow these simple steps.
Eligibility Criteria for an Education Loan on Property for Studying in Canada
Both salaried and self-employed persons can access an education loan against property from Bajaj Finserv. A CIBIL score of 750 or more along with a well-maintained property can help you get approval quickly and obtain financing at a favourable property loan interest rate. Besides these requirements, Bajaj Finserv lists simple eligibility terms, which are as follows.
For Self-Employed Individuals:
For Salaried Individuals:
Documents Required for Study Loan on Property for Canada
In order to prove your eligibility for an education loan against property, you must produce certain documents. Bajaj Finserv has minimal documentation requirements, as follows.
For Self-Employed Individuals:
For Salaried Individuals:
Steps to apply for an education loan against property for Canada
To apply for a study loan against property in India, follow these simple steps: