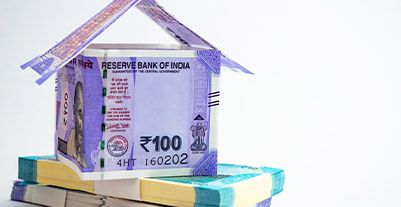 How can I get 100% loan against property?
A loan against property is sanctioned against an immovable asset such as commercial or residential property or a piece of land owned by the borrower. Lenders offers loans based on the mortgaged property's value, going up to a certain percentage. This is called Loan to Value ratio or LTV.
For security purposes, lenders do not sanction a mortgage loan with an LTV of 100%. You can avail a maximum of Max 80% of the property's present market value as a loan from a lender.
Understanding loan to value (LTV)
Loan to Value is the amount of loan you can borrow compared to the current market value of that mortgage. LTV signifies the risk of lending from the lender's point of view. The formula to calculate LTV is Mortgage amount/ Appraised value of the property.
When LTV is higher, the risk is more. This may lead to higher property loan rates, making the loan more expensive
When LTV is lower, the risk low, the interest rate is more competitive and your chances of getting approval on your loan against property application are higher
LTV (loan to value) is easy to understand for borrowers
What are the eligibility parameters to meet?
To avail of such high-value financing, you need to meet a few simple eligibility criteria, including:
Applicants should either be salaried with a private/ public concern or an MNC (minimum 3 years of experience), or be self-employed (minimum 5 years of business vintage)
Salaried applicants should be between 25 years and 62 years of age. Self-employed individuals should be within 25 years and 70 years of age
They must also be residing citizens of India
Self-employed individuals like businessmen, doctors, chartered accounts, and others can also apply for a Property Loan. To avail loan against a property, you can calculate the property area using our online area conversion calculator.
To ensure fast approval of your application, meet the eligibility criteria and keep the loan against property documents required ready.
Bajaj Finserv ensures that the other fees and charges related to this loan are nominal to help reduce the cost of borrowing. Check the steps of how to apply online for loan to avoid errors and ensure you avail the most affordable loan against property.

Check Loan Against Property Interest Rate