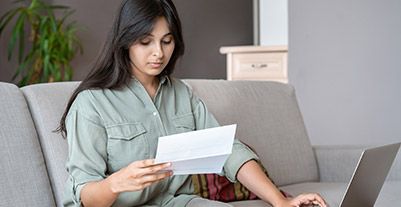 How to get the highest returns with the lowest risk
As the cost of living indices consistently rises, choosing sustainable investment avenues offering assured returns without any risk is essential. With increasing market volatility, it is vital to create a diversified investment portfolio that ensures higher returns with lower risks.
While several investment avenues provide higher returns with lower risk, you can invest as per your goals and look for options with a lower risk of capital.

Here is a list of 7 low-risk investments with respectable returns

High-interest savings accounts

With a high-interest savings account, you can earn a nominal amount of interest on the deposit in your savings account. You need to open an account and deposit your money but make sure you choose a good financial institution that offers competitive interest rates at no additional fee. It should also provide good customer service, online account management, and easy deposits. Depending on your bank of choice, you can earn a respectable interest on your savings bank account in India.

Annuities

If you wish to stabilise your portfolio over a long period, annuities are a good investment. However, it is crucial to consider the risks since they are complicated financial instruments with many clauses included in the contract.
There are many different annuities but purchasing one is similar to making a trade with an insurance company. You receive a stated rate of guaranteed returns in return for a lump sum amount. Based on the type of pension amounts offered, annuities can be:

Fixed
Variable
Equity indexed
As the name rightly suggests, fixed annuities provide fixed returns, effectively translating to lower risk. Despite being complex financial products, your annuities are backed by the insurance company and are usually safe.

Money market funds

A money market fund is a mutual fund designed for those who do not wish to lose their investment principal. It usually pays a slight interest in addition to making your cash deposit in the fund worthwhile. These funds have a strong history of protecting the value of your cash. Market fluctuations have little to no effect on them, so you do not have to worry about losing your principal.

Municipal bonds

A municipal bond is a debt instrument issued by urban local bodies that promise to repay a fixed principal amount with interest periodically. This interest amount may be paid at fixed intervals or the end of the tenor with the principal. Investing in such municipal bonds is generally very safe since the likelihood of municipality bankruptcy is very low.

Certificate of deposit
You can get a certificate of deposit from commercial banks and some financial institutions. However, you would need to deposit a minimum amount of Rs. 1 lakh for a set period and receive guaranteed returns in exchange. A certificate of deposit ensures you get a fixed interest rate for that time, regardless of current interest rates. However, you have to pay the penalty if you wish to retrieve your funds prematurely. The government guarantees that you will not suffer a loss, while the financial institution offers additional interest. The gain varies as per the length of your certificate of deposit and the ongoing interest rates.

Treasury bills
These instruments offer short-term investment opportunities, usually up to 1 year. The Government of India provides three treasury bills through auctions—91-day, 182-day, and 364-day. The minimum amount for investment is Rs. 25,000, and the amount increases in multiples of Rs. 25,000. They are associated with zero risk because of issuance by the government, and you can opt for one electronically from the Negotiated Dealing System (NDS).

Fixed deposit
These are among the safest investments to make and provide a reasonable rate of return if you compare them with most other low-risk investments. Investing in a fixed deposit from well-reputed financiers offers additional advantages, like flexibility, periodic interest payouts, high stability and credibility.

Financiers like Bajaj Finance Fixed Deposit offer attractive interest rates for senior citizens , and you can also take a loan against a fixed deposit for emergencies.
If you're looking to invest in a low-risk instrument, Bajaj Finance offers fixed deposit (FD) with one of the best interest rates in the country. Moreover, and CRISIL's FAAA/ Stable Rating makes it ideal for achieving a balance between risk and reward.