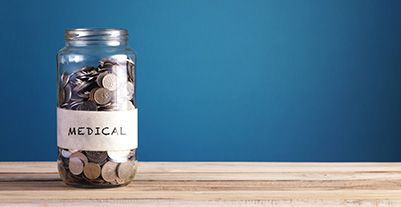 Fund your MBBS with study loan on property for medical studies
Practising medicine requires you to secure an MBBS degree that usually spans 5 to 6 years and can cost a hefty sum, depending on where you study. While government institutions do provide concessions and provisions that make an MBBS degree easier on your pocket, admission quotas are limited and securing a seat can become a herculean task.

The alternative is studying at a private college, which is extremely expensive in comparison, both within and outside India. In general, MBBS fee structures in India require a budget of Rs. 30 to Rs. 60 lakh, with some colleges charging even over Rs. 1 crore. Securing such a large amount can be difficult and so to alleviate the burden, you can consider an education loan on property for medical students. This solution offers substantial financing against your property's market value and has convenient repayment options as well.
Eligibility Criteria for an Education Loan on Property for MBBS/ MD
To avail a sanction via a study loan on property for MBBS/ MD degree, you only need to meet simple eligibility terms. When you apply to Bajaj Finserv, the terms are as follows.
As a Salaried Individual:
You must be between the ages of 28 to 58 years
You must maintain employment at a public-sector institution, a reputed MNC or a private organization
You must be a residing citizen of India
As a Self-Employed Individual:
You must be between the ages of 25 to 70 years
You must earn a steady income from your business
You must be a citizen residing in a city that belongs to the approved list. The approved cities include Hyderabad, Delhi, Kolkata, Mumbai, Thane, Pune, Ahmedabad, Chennai, Bangalore, Vizag, Udaipur, Surat, Indore, Cochin and Aurangabad.
Documents Required for Education Loan Against Property for MBBS/ MD
During the time of application, you must produce certain documents to support your eligibility. These are as follows.
For Salaried Individuals:
Address proof
Aadhaar card/ PAN card
Bank statement of the last 3 months
Salary slips
IT returns
Mortgaged property documents
For Self-Employed Individuals:
Address proof
Bank statements of the last 6 months
Mortgaged property documents
PAN card/ Aadhaar card
Things to Keep in Mind Before Taking Education Loan for MBBS/ MD in India or Abroad
Before you borrow an education loan against property, there are few key factors to consider. Among the fundamentals is the total cost of pursuing a course at a given institute, followed by the loan particulars. To accurately know the cost of the programme, you should account for tuition, registration and administrative fees, airplane fares and visa charges. Additionally, account for accommodation, incidental charges and miscellaneous expenses.
Next, to know how much you need to borrow, line up the estimated expenses against the finances you've already secured. Thankfully, Bajaj Finserv offers funding of up to Rs. 5 crore, if you're self-employed, and up to Rs. 1 crore if you're salaried. This means that you can obtain ample assistance irrespective of whether you're looking for an education loan for MBBS/ MD abroad or within the country. Further, the funds you get access to bear no spending restrictions, and this allows you to tend to a wide range of expenses easily, be it course-specific charges or recreational costs.
When taking a study loan against property in India, remember to keep your property in prime condition, as this ensures that you get a large sanction and benefit from a competitive education loan against property interest rate as well.
Repayment of MBBS/ MD Education Loan Against Property
Considering the fact that you will most likely borrow a sizeable amount of money to fund an MBBS/ MD degree, especially for colleges abroad, you must have a repayment strategy prepared beforehand. Thankfully, the Bajaj Finserv Loan Against Property for Education carries a cost-effective interest rate and so, you can borrow as per your needs without worrying about massive property loan interest payments burdening your monthly budget.
Additionally, the flexible tenor allows you to manage your EMIs efficiently. As a salaried individual, you can select a tenor ranging from 2 to 20 years, and if you're self-employed, you can choose to repay the loan over a tenor of up to 18 years. To extract even greater value from the loan, you can consider taking it on floating terms. A floating rate loan allows for part-prepayments and foreclosures at no additional charges.
Steps to Apply for an Education Loan Against Property for MBBS/ MD
To apply for this education loan for MBBS in India, here are the steps you must follow.
Log on to the official Bajaj Finserv website
Correspond with an authorised Bajaj Finserv representative
Wait for loan approval
Furnish the necessary documents and await disbursal
Fulfilling your child's dream of practising medicine is made easy with this financial offering. So, start the application process right away and prepare for upcoming college intakes.
With a Bajaj Finserv Loan Against Property for Education for an MBBS/ MD degree you can get a high-value loan as a salaried or self-employed individual. You can use the funds for tuition, registration and administrative fees, airplane fares, visa charges, accommodation, incidental charges, and miscellaneous expenses, and more. For easy repayment use the flexible 20-year tenor to keep your EMIs affordable. Fill the online application form to avail finance for an MBBS or MD degree at a cost-effective interest rate and keep your personal, financial, and property documents ready for quick approval.