Eligibility criteria and documents required
Anyone can apply for our home loan balance transfer facility as long as they meet the criteria mentioned below.
Eligibility criteria
Nationality: You must be an Indian citizen residing in India with property in a city we operate in.
Age: As a salaried applicant, you must be between 23 years to 62 years.
*The upper age limit is considered as the age at the time of loan maturity.
CIBIL Score: A CIBIL Score of 750 or higher is ideal to get your home loan balance transfer approved.
Employment status: As a self-employed doctor, you must hold an MBBS or subsequent higher degree. You should also have a business continuity of over 5 years in your current practice.
Documents required:
KYC documents (identity and address proof)
Proof of income (P&L statement & ITR)
Property-related documents such as the title deed of the property
Proof of medical practice existence
Account statements for the last 6 months

Note: This is an indicative list that may change based on your actual loan application.
How to apply for a home loan balance transfer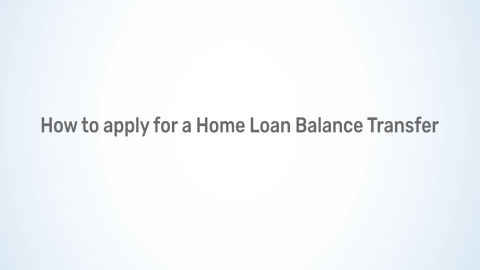 01:33