Eligibility criteria and documents required
Anyone can apply for our business loan if they meet the five basic criteria mentioned below. If you meet all the business loan eligibility criteria, you will need a set of documents to complete your application process.
Eligibility criteria
Nationality: Indian
Business vintage: At least 3 years
CIBIL Score: 685 or higher
Work status: Self-employed
Age: 24 years to 70 years*
Documents
KYC documents -  Aadhaar/ passport/ voter's ID/ driving license/ letter from NPR/ NREGA job card
PAN card
Proof of business ownership
Other financial documents
*Higher age limit is applicable at the time of loan maturity.
How to apply for a business loan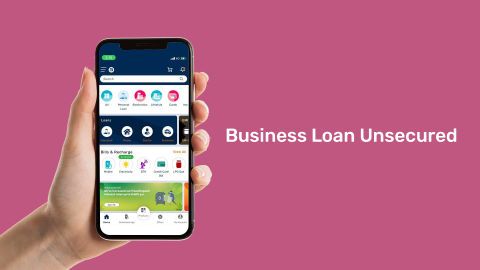 01:15
Frequently asked questions
What is the interest rate offered for Bajaj Finance Business Loan?
You can get a Bajaj Finserv Business Loan at a competitive interest rate between 9.75% p.a. and 30% p.a.
What is the repayment tenure of a business loan?
With a business loan from Bajaj Finance you get the flexibility to pay back your loan with repayment options ranging from 12 months to 96 months.
Do I need to submit any collateral to avail business loan from Bajaj Finance?
With Bajaj Finserv Business Loan you can get loan of up to Rs. 55 lakh, without any collateral or security.