Eligibility criteria and documents required
If you are a salaried individual, you can apply for our loan against property after meeting the criteria mentioned below.
Eligibility criteria
Nationality: You must be an Indian citizen residing in India with property in a city we operate in.

Age: Minimum age: 25 years* (18 years for non-financial property owners)
Maximum age: 85 years* (including non-financial property owners)
*Age of the individual applicant/ co-applicant at the time of loan maturity.
*Higher age of co-applicant may be considered up to 95 years basis 2nd generation (legal heir) meeting age norms and to be taken as co-applicant on loan structure.

CIBIL Score: A CIBIL Score of 700 or higher is ideal to get an approved loan against property.

Employment status: As a salaried applicant, you must be employed with a stable income source from a public or a private company with a minimum of 3 years of work experience.

Documents required:
Proof of identity/ residence
Property-related documents (Mortgage documents, Title deed)
Proof of income (latest salary slips, IT Returns),
Proof of employment (ID card issued by employer), and
Account statements for the last 6 months
Note: This is an indicative list that may change based on your actual loan application.
More details
As long as you fall within the eligibility age limit, you can apply for a loan against property. To qualify for a loan against property, a salaried individual should have a CIBIL Score of 700 or above.
We provide loan against property in most cities in India at affordable interest rates. A white-collared salaried individual can easily apply for a loan against property with us after meeting certain prerequisites.
Any salaried individual between the ages of 25 years to 85 years may apply as long as they match the required income profile. A solo applicant must have a minimum net salary of up to Rs. 50,000/- per month. After the documents you provided are verified, your final loan amount is approved.
Still haven't found what you are looking for? Click on any of the links at the top of this page.
How to apply for a loan against property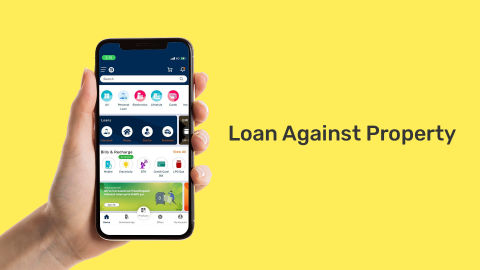 00:46
Step-by-step guide to apply for a loan against property
Click on the 'APPLY' button on this page.
Enter your pin code and click Proceed.
Provide basic details like your full name and mobile number.
Choose 'Salaried' as your employment status.
Now select the type of loan that you wish to apply for, your net monthly income, your area pin code, and the required loan amount. 
Generate and submit your OTP to verify your phone number.
Enter further details like your property location, your current EMI amount/ monthly obligation, and your PAN number.
Click on the 'SUBMIT' button.
That is it! Your loan request is submitted. Our representative will connect with you and guide you through the next steps.