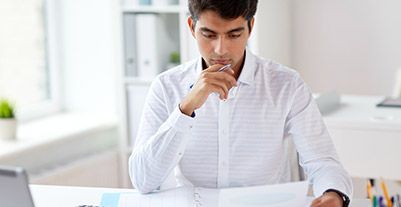 FD vs Life Insurance
Fixed deposit and life insurance are common avenues that help you secure your finances. You can invest in an FD with banks, NBFCs, and other companies, whereas insurance corporations are the only insurance providers. The main difference between the two is that an FD is an investment while insurance is a risk cover.

Here's a quick look at the features and benefits offered on fixed deposits by Bajaj Finance.

| | |
| --- | --- |
| Interest rate | Up to 8.60% p.a. |
| Minimum tenor | 1 year |
| Maximum tenor | 5 years |
| Deposit amount | Minimum deposit of Rs. 15,000 |
| Application process | Easy and paperless online process |
| Online payment options | Netbanking and UPI |
Life Insurance Vs Fixed Deposit

| | | |
| --- | --- | --- |
| Category | Fixed Deposit | Life Insurance |
| Tenor | 1 year to 5 years | Minimum of 10 years |
| Returns | Fixed interest rate | Depends on the market |
| Tax Benefits | May not be provided | Tax benefits can be availed |
| Withdrawal | Premature withdrawal is allowed | Depends on the type of life insurance |
| Loan Option | Loans can be availed | Loans can be availed |

Types of FDs and life insurance policies
Fixed deposits are of two types. You can open a cumulative fixed deposit to receive wholesome returns at maturity, or a non-cumulative fixed deposit to receive regular interest payouts through the tenor. Invest with Bajaj Finance for top FD interest rates, and predict your returns with the FD Calculator.
There are two types of insurance: whole life and term life. You only have a death benefit with term insurance, whereas full life insurance acts like an investment, and you receive a lump sum on surrendering the policy.
Frequently asked questions
Are corporate FD insured?
Corporate FDs are of the highest interest paying FDs. They are a safe investment option that offers profitable returns on your money. However, these FDs are not insured.
Which is the best FD scheme in India?
Bajaj Finance Fixed Deposit is one of the profitable interest paying FD scheme. Investors can earn up to 8.60% p.a. interest on their depsoits. The investment in the FD starts as low as Rs. 15,000 with flexible tenor and multiple payout options.
What is the minimum tenor of investment in a fixed deposit account?
The tenor for investment in a fixed deposit account varies for different financial institutes. Bajaj Finance offers FD starting at Rs. 15,000 for a tenor ranging between 1 year to 5 years.