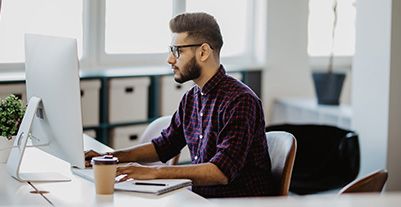 Why investing in a fixed deposit is better than stocks
Fixed deposits and stocks are standard investment tools that enable you to grow your savings. However, both these investment options have their advantages. Choosing the best option of these two depends on several factors, including your risk appetite, investment amount and your investment goals.

While stocks are market-linked instruments that can offer inflation-beating returns in a growing economy, there is always a risk of capital loss. On the other hand, fixed deposit is a fixed-income instrument that guarantees returns over a pre-decided tenor.
Before choosing the right investment option, it is best to know more about these investment instruments.

Benefits of investing in fixed deposit
Low risk
Fixed deposits are low-risk investments as they aren't dependent on market fluctuations. So, they help your money grow at a steady pace. Moreover, they offer a good rate of interest that usually ranges between 6%–7% and is pre-determined. While you don't have the opportunity of making windfall gains, your money is safe, and you get a fixed sum at the end of the tenor. This type of investment is greatly favoured because of its high stability.
Fixed tenor
FDs have a fixed tenor, so your money is safely invested for a while. You have the option of choosing between 12 and 60 months.
Premature withdrawal
When investing in a fixed deposit, you always have the option of premature withdrawal. You can easily break your FD or take a loan against FD if you need money. Do note that if your interest exceeds Rs. 10,000, it is subject to tax. Also, if you make a premature withdrawal, you stand to lose a portion of interest income.
Periodic income
When investing in a fixed deposit, you can also stand to gain from the benefit of periodic income. You have the option to receive your returns at maturity or regularly – monthly, quarterly, half-yearly and annually.
Benefits of investing in stocks
Protection against inflation
Investing in stocks is entirely dependent on market forces. So, while you can make windfall gains with stock market investing, there is no certainty on the returns you can make.
Invest in smaller amounts
You can start investing in stocks with smaller amounts through mutual funds and SIPs.
Access to global markets
The stock market enables you to invest in shares of companies headquartered overseas. This helps you get additional exposure and be a global investor.
However, even if you have the in-depth market knowledge and are a seasoned risk-taker, you may not always get assured returns. So, if you're a beginner, it is wise to invest only a small amount of money to test the waters.
Should you invest in FDs or stocks
The choice of your investment option depends on your risk appetite. Investing a portion of their savings in stocks can be a good option for those with a high-risk appetite. However, if you have a low-risk appetite, keeping in mind your financial condition, it is better to steer clear of the stock market and choose to invest in a fixed deposit.
Even if you choose to invest in stocks, investing a portion of your savings in a fixed deposit is wise. It puts the safety of your investment first and guarantees returns. Moreover, not only is it low-risk, but it is also low-involvement. Once you open an FD, you don't have to monitor it constantly.
Bajaj Finance offers excellent fixed deposits that you can consider. They check all the boxes for safety with high stability ratings and come with a flexible tenor of 12–60 months. You can invest as little as Rs. 15,000 and enjoy higher FD interest rates if you are a senior citizen. To calculate your FD returns, take a look at this handy FD Calculator. Apart from this, it offers several add-on benefits such as online access to your investment and easy application.