3 unique variants of our personal loan
Flexi Term Loan

Imagine you take a loan of Rs. 2 lakh for a tenure of 24 months. For the first six months, you pay the regular equated monthly instalment (EMI). By now, you would have repaid about Rs. 50,000. 


Suddenly, you have an unforeseen need for Rs. 50,000. All you need to do is to go to My Account (our customer portal) and withdraw Rs. 50,000 from your Flexi Term Loan account. Three months later, you just got your bonus of Rs. 1,00,000 and would like to pay back a part of your Flexi Term Loan. This time again, all you need to do is go to My Account and pay back a part of your Flexi Term Loan.

During all this while, your interest is automatically adjusted, and you are paying interest only on the outstanding amount at any point of time. Your EMI consists of both principal and adjusted interest.


Unlike in the case of other personal loans, there is absolutely no fee/ penalty/ charges for paying back or withdrawing from your Flexi Term Loan account.


This variant is ideal for today's lifestyle, wherein managing expenses can get unpredictable.

Flexi Hybrid Loan

This is another variant of our personal loan that works exactly like Flexi Term Loan. The only difference is that, for the initial period of the loan that could vary depending on the tenure of the loan, your EMI will only consist of the applicable interest. For the remaining period, the EMI will consist of the interest and principal components.


Click here for a detailed description of how our Flexi Hybrid Loan works.


Term loan

This is like any other regular personal loan. You borrow a certain amount of money, which is divided into equated monthly instalments that consist of both principal and the applicable interest.

There is a fee applicable for repaying your term loan before the completion of your loan tenure.

EMI Calculator
Plan your instalments better.
Features and benefits of our personal loan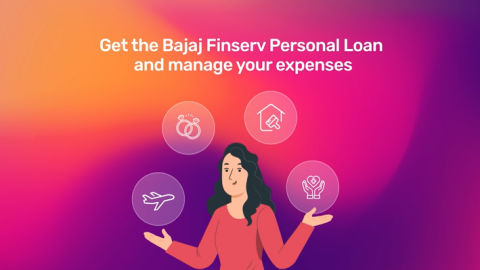 All you need to know about our Personal Loan
Watch this video to know everything about the features of our personal loan
3 unique variants

Pick the loan variant that suits you best: Term loan, Flexi Term Loan, and Flexi Hybrid Loan.


No part-prepayment charge on Flexi Term Loan

Repay a part of your loan in advance, at no extra cost. You can part-pay as many times as you want.

Loan of up to Rs. 25 lakh

Manage your small or big expenses with loans ranging from Rs. 1 lakh to Rs. 25 lakh.


Convenient tenures of 5 years

Manage your loan easily with repayment options ranging from 12 months to 60 months.


Approval in just 5 minutes

Complete your entire application online from the comfort of your home or wherever you are.


Money in your account in 24 hours*

Your bank account will be credited with your loan amount within 24 hours* or, in some cases, on the same day of approval.


No hidden charges

Our fees and charges are mentioned clearly on this page itself and also on our loan documents. We advise you to read these in detail before applying. 

No guarantor or collateral needed

You do not need to provide any collateral such as gold ornaments, property papers, or have someone stand as a guarantor.

*Terms and conditions apply.

Still haven't found what you're looking for? Click on any of the links at the top of this page.
Pre-approved offers for new customers
We have pre-approved offers for our existing customers as well as our new customers. To check, all we need is your mobile number.

If you are our pre-approved customer, you do not need to go through the entire application process. Think of it as our green channel.
You may not need a loan at this point of time, or you may not have a pre-approved offer. You can still choose from a wide range of products:
Eligibility criteria and documents required
Anyone can apply for our personal loan, as long as you meet five basic criteria mentioned below. If you meet all the eligibility criteria, you will need a set of documents to complete your application process.
Eligibility criteria
Nationality: Indian
Age: 21 years to 67 years*.
Employed with: Public, private, or MNC.
CIBIL score: 750 or higher.
Monthly salary: Starting Rs. 22,000, based on the city you live in.
Documents required
KYC documents: Aadhaar/ PAN card/ passport/ voter's ID
Employee ID card
Salary slips of the last 2 months
Bank account statements of the previous 3 months
*You should be 67 years or younger, at the end of the loan tenure.

Check your personal loan eligibility
Find out how much loan amount you can get.
Applicable fees and charges
Type of fee

Applicable charges

Rate of interest

13% onwards.

Processing fees

Up to 4% of the loan amount (inclusive of GST).

Bounce charges

Rs. 600 - Rs. 1,200 per bounce (inclusive of taxes).

Penal interest

Any delay in payment of monthly instalment/ EMI shall attract penal interest at the rate of 2% to 4% per month on the monthly instalment/ EMI outstanding from the date of default until the receipt of the monthly instalment/ EMI.

Part-prepayment charges*

2% + applicable taxes on part payment amount paid.

Stamp duty

At actuals (as per state).

Mandate rejection charges

Rs. 450 (inclusive of applicable taxes) per month from the first month of the due date for the mandate rejected by customer's bank until the registration of new mandate. 

Annual maintenance charges

Flexi Term and Flexi Hybrid Loan - 0.295% plus applicable taxes, on the total withdrawable amount irrespective of utilisation on date of levy of such charges.

Foreclosure charges

Term Loan - 4% plus applicable taxes on the principal outstanding amount as on the date of such full pre-payment.
Flexi Term and Flexi Hybrid Loan - 4% plus applicable taxes on total withdrawable amount (total loan amount that you can withdraw under Flexi Term Loan from time to time as per the repayment schedule on the date of levy of such charges).
*These charges are not applicable on the Flexi variants. Moreover, part-prepayment should be more than one EMI.
Frequently asked questions
What is the Flexi Term Loan?
Bajaj Finserv is one of the first lenders in the country to offer the unique Flexi Term Loan facility on personal loans. This facility allows you to withdraw from your assigned loan amount or pay a part of your loan as and when you need it.
You are charged interest only on the amount that you withdraw. And there is no part-prepayment fee applicable.
Read about our Flexi Term loan
What is a Flexi Hybrid Loan?
The Flexi Hybrid Loan is another convenient variant of personal loans offered by Bajaj Finserv. This option lets you divide your loan tenure over two parts – the initial tenure and the subsequent tenure.
Initial tenure: The monthly instalments for the initial part of the tenure (usually the first 12 months of your loan) are 'interest-only' – you are only expected to pay the interest component of the loan. The principal component of your loan is not due during this period. 
Subsequent tenure: The monthly instalment for the next part of the tenure (usually the tenure following the first 12 months of your loan) comprises the principal amount and the interest component payable on the personal loan.
The subsequent tenure commences from the expiry of the initial tenure.

You can withdraw money throughout the loan tenure and pay a part of your loan in advance at your convenience. You will be charged interest only on the amount utilised.

Key reasons why Flexi Hybrid Loan is better than a Term loan.

A term loan is a conventional personal loan in which the principal amount and interest are repaid in regular payments over a set period of time.
When you apply for a personal loan from Bajaj Finserv, you can choose from one of three variants – Term loan, Flexi Term Loan, and Flexi Hybrid Loan. Flexi Term Loans and Flexi Hybrid Loans offer greater flexibility and convenience and are the preferred loan options. 
Apply for a personal loan from Bajaj Finserv.
Why should you choose a Bajaj Finserv Personal Loan?
Bajaj Finserv offers personal loans that come with a host of features and benefits, including:
Flexi facility
Instant approval
Minimal documentation
Money in bank in 24 hours*
Flexible tenures
Pre-approved offers
No hidden charges
Read more on why our personal loan is the best option for you.
What is the minimum salary required to get a personal loan?
The minimum salary criteria for a personal loan from Bajaj Finserv depends on your city of residence. For instance, your minimum monthly salary should be Rs. 35,000 if you reside in Pune, Bangalore, Mumbai, or Delhi.
What are the documents required for a personal loan?
New customers applying for a personal loan need to submit just their basic identity and financial documents. These include:
2 passport-size photographs
KYC documents – Aadhaar card, PAN card, voter ID, driving licence, passport
Bank account statements for three months
Salary slips for the last two months
Bajaj Finserv offers pre-approved personal loans to special customers. If you qualify for a pre-approved offer, you may not need to submit any documents or additional paperwork. You can get the funds in just 30 minutes*.
Check your pre-approved offer now
How can you calculate your EMI?
You can use our personal loan EMI calculator to identify the monthly instalment and tenure that suits you best. You only need to enter the amount you need to borrow, the interest rate, and the tenure to get an estimate of the instalments you are likely to bear.

Calculate your EMIs with the personal loan EMI calculator.